28th of October 2014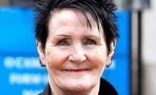 An Irish woman has been awarded 28,000 euros in compensation after she fell off the toilet in her own home. Isabela O'Sullivan was injured when a tile fell close to her while she was using the toilet of her Dublin home in September 2011. She got such a fright that she fell forward, injuring her right knee.
Barrister William Martin Smith
27th of October 2014
A new website and app designed in New Zealand would allow greater monitoring of cleaners by their clients. But a trades union has warned warned an "extreme level" of monitoring could lead to unrealistic expectations on cleaning staff.
Developers Kenneth Ho and Charles La say they have launched spongehero.co.nz to address shortcomings within the
24th of October 2014
A very special kind of superhero is on a one-man crusade to clean up the streets of the Japanese capital. Mangetsu Man - which translates as Mr Full Moon - is armed with a broom and dustpan and has been patrolling the streets of Tokyo since last year in his tireless search for rubbish.
But his mission is much more ambitious than picking up
22nd of October 2014
A new germ-busting jacket is claimed to help keep commuters safe from infections and viruses when travelling on public transport.
The Germinator has been trimmed with a silver-infused antimicrobial fabric on the sleeve cuffs and collar shield to help protect the wearer from picking up infections and viruses from other passengers.
The jacket,
21st of October 2014
The October edition of ECJ is now available to read online. As well as latest industry news and reports from around Europe, special reports include:
• Maintaining hygiene standards on board a racing yacht
• Nordic cleaning standards
• Sustainable cleaning - the people element
• Air freshening systems - latest
17th of October 2014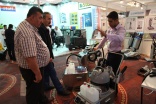 The first edition of ISSA/Interclean Istanbul took place at the end of last month, with 28 per cent of the visitors coming from outside Turkey - from 70 countries. In three days the event attracted 2,746 visitors, 100 conference delegates and over 800 exhibitor representatives.
The show was also visited by international delegations of government