Obituary - Peter Holt
20th of May 2014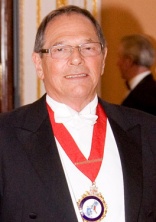 As we announced on the ECJ site almost two weeks ago, Peter Holt - a well-loved and familiar figure across the cleaning industry - died suddenly while at the ISSA/Interclean exhibition in Amsterdam.
Holt had retired from his role as managing director of UK-based cleaning machine producer Truvox International in 2008, having joined in 1991.
David Overell, his successor, says that Holt was tasked with turning round the company, which was in decline at the time. With his wealth of experience in overseas business, he quickly formulated the strategy of developing an export customer base, and, at the same time, marketing the manufacturing capacity of Truvox to potential OEM customers.
In 1997 Holt led the the project to acquire Trewax Manufacturing from its then owners, which completed in September that year. The move proved highly successful and saw Hydromist extractor products join the established Truvox range, consequently increasing turnover.

New products were also developed, both in-house and using vendor partners, and these also proved there was a place for a small, high quality manufacturing company within the global cleaning equipment market.

The Truvox range of brands and products was further strengthened in 2003 by the acquisition of Cimex International Limited, another target identified by Holt. He saw the great potential offered by Cimex's 3-brush system, and personally oversaw customer development in both the USA and Japan.

His work to strengthen the Truvox business continued and, in 2006, he led the team from Truvox which managed the company's acquisition by Tacony Corporation. This gave Holt the opportunity to develop the international arm of Tacony's Commercial Floorcare Division (CFC), marketing and promoting the PowerFlite, Tornado and CFR brands to a global customer base.
Holt made the decision to retire at the end of 2008, having grown Truvox into a key player in the global cleaning equipment market. He stayed in an advisory capacity with Tacony until the end of 2009, but remained in contact with both Truvox and Tacony senior management throughout the years, and was a regular visitor to Truvox in Southampton.

He was passionate about both maintaining a UK manufacturing base, as well as the need to expand beyond Truvox's traditional customers. Many of the people brought into Truvox by Holt remain with the company, while some have moved onto key positions with other major companies in our industry.
Prior to joining Truvox, Peter Holt had a long career with Johnson Wax Professional Trade Division, progressing through the ranks to senior management. He then joined Lever Industrial and took the lead in their cash and carry business, eventually playing an active role in the transition to Diversey Lever.
Holt was also a very active member of the Worshipful Company of Environmental Cleaners in London, being admitted as a Freeman in 1992. Following his admission as a freeman of the City of London, he was admitted as a liveryman of the company in 1999. He was promoted to a court assistant in 2002, and elected as a warden in 2009. He was elected master in 2011, and deputy master in 2012.