Indispensable dispensing
15th of July 2019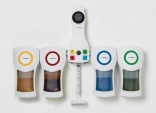 While chemical dosing systems are becoming more widely used, many cleaners are still using the traditional "glug-glug" method of diluting products. But are there certain environments in which dosing systems are particularly advisable – or even indispensable, asks Ann Laffeaty?
It has become increasingly common in many industries for cleaning chemicals to be dispensed via a dosing system. These offer a number of advantages over traditional "glug-glug" methods: they avoid any human contact with neat chemicals at point of delivery and they offer cost and sustainability benefits since the risk of using chemicals in higher concentrations than necessary is reduced.
On the other hand, manual dosing methods are quick and easy to use and avoid the initial cost outlay associated with dosing systems. But should these "glug-glug" methods be avoided in some environments or for certain applications? And are there some tasks for which chemical dosing systems would be particularly advisable?
The commercial laundry sector is an example of one such environment according to Brightwell Dispensers' marketing manager Nicole Mathes. "Chemical dosing systems help to ensure the correct amount of cleaning product is used at the right time to provide consistent cleaning results," she said.
"The over-use of laundry products can cause damage to the fabric or create a bad odour when used with certain linens. Optimal cleaning performance therefore depends on accurately diluted chemicals - and the use of a dispensing system is one of the most effective ways of doing that."
She says dosing systems are also important in healthcare facilities such as care homes and hospitals. "In these types of environments it is crucial for the wellbeing of patients, employees and visitors to focus on a high standard of hygiene in order to reduce the risk of cross-contamination and healthcare-associated infections," said Mathes. "In fact the monitoring of such facilities and the provision of disinfection are both critical to the safety of residents and staff – and of the reputation of the business."
She adds that chemical dosing systems can help facilities to better understand and control their chemical usage which means they are particularly suitable for care homes, which often need to work within a tight budget.
"Businesses are continuously striving for cost reductions and efficiencies, so a system that controls chemical consumption is of great importance," she said. "In fact a dosing system works well in any industry where reliable, accurate and controlled dosing is required."
Consistent results
According to Mathes such industries include dishwashing, hospitality, cleaning and hygiene, manufacturing, water treatment, agriculture, medical, mining and food processing.
"A good example of the importance of dosing systems can be seen in any business where food is prepared and served," she said. "The build-up of fats, oil and grease - known as FOGs - in drains and sewers is a big problem.
"For food preparation businesses the accumulation of FOGs can be bad news as it can lead to foul smells and blocked drains. It is therefore advised that businesses invest in appropriate automated drain dosing systems to prevent it."
Brightwell Dispensers' DrainWatch is an automated dosing pump that dispenses measured doses of an enzyme-based solution at timed intervals into the waste pipe closest to kitchen sinks and dishwashers. This is claimed to help keep drains and sewers clean.
Dosing is an indispensable asset in nearly all professional cleaning environments according to international business development lead for Werner and Mertz Enzo Dario Sforza. "This covers sectors such as building care, laundry, ware-washing and hand hygiene," he said.
"Dosing systems ensure the right amount of chemical is used for the cleaning task in hand. They also help to control the cost of product usage and they guarantee user safety."
He believes dosing systems are an important contributor to the desired cleaning result. "However in certain segments, expectations go beyond this," he said. "In the food processing sector for instance, food may be contaminated with pathogenic bacteria which will be transmitted directly or indirectly on to surfaces, floors and even humans.
"The wrong dosage levels here will not simply result in increased chemical costs but will also impact on cleaning and disinfection results. And in textile cleaning procedures in hospitals and day care units items such as cloths, mops and bed linen need to be treated in the most hygienic way to avoid cross-contamination."
He says the transport sector is another area where dosing systems are indispensable. "Take for instance the cleaning of trains: how can you ensure you have accurate dosing where there is limited space and no access to a water supply?" he said. The company's Quick & Easy system is said to solve this issue since it consists of small bottles of highly concentrated product that may be screwed into a mobile foam dosing trigger.
According to Sforza, dosing systems support cleaning staff by applying the right amount of chemical according to the type of soiling, degree of dirt and type of materials used. "Considering the amount of variables impacting the cleaning result, there is a high risk of doing something wrong," he said.
"The building care segment is also subject to continuous personnel changes and this could lead to an ongoing need for costly training, or badly-trained staff continually over-consuming products. And both scenarios have cost implications."
He claims that a dosing system will ensure staff are not over-using chemicals. "Besides the cost benefits this offers, there will also be a positive environmental impact," said Sforza.
Reliable dosing systems can play a key role in every cleaning application according to Dr Schnell Chemie marketing executive Franz Felbermeir. "These are not yet implemented across all areas often due to the additional purchasing costs, but the willingness to use them is increasing," he said. "It is important to note the cost of cleaning solutions makes up less than two per cent of the overall costs - and dosing is a leverage factor for enhancing efficiency."
In his opinion dosing systems are indispensable in hygienically-sensitive areas such as kitchens, the healthcare industry and other environments in which disinfection is required. "The correct dosage here is not only important in terms of efficiency, but can often also make the difference between proper and improper application."
Dosing systems are also particularly suitable for surface disinfection applications in medical facilities, according to Felbermeir. "And they are important in laundry disinfection where it is not simply a matter of using a listed cleaning solution - the dosing system itself helps to ensure the safety of the process," he said.
In fact he feels dosing systems are often indispensable in order to ensure the user's safety. "This is a major advantage in an industry with frequently changing personnel, short learning times and where language skills are often lacking," he said.
Safety and service
"Cleaning personnel are generally international in nature. In many industries whether it is in a clinic, care home, hotel, commercial kitchen, office, transport company or industrial business, between 30 and 50 languages may be spoken so it is important that all cleaning solutions are safe and easy to use."
Chemical dosing systems are particularly important in environments where safety and service are both major concerns, says Hydro Systems global product manager Matt Hayas. "These include healthcare, hospitality, food service and education for example," he said.
"If cleaning and sanitation are not executed properly in these environments it puts people at risk. And people form opinions based on a perception of cleanliness: a single experience of a dirty toilet facility or a soiled surface may well deter people from visiting an establishment again."
He says dosing systems are also often used in environments such as schools and universities to prevent over-consumption and to keep down costs.
"Laundry is another area where chemical dispensers are often considered indispensable," adds the company's global product manager John Goetz. "Here there will be many different linens which will be soiled at various levels, and this makes the nature of the business too complex to manage manually."
He claims a dosing system can reduce labour costs, utility costs and additional chemical costs caused by the need for rewashing. "Rewash can cost laundries over €40,000 per year in profit," he said.
Dispensers offer clean, consistent and accurate results which can increase both employee and customer satisfaction according to Hayas. "Chemical dosing systems also cut down on waste, save time and provide a positive environmental impact due to less plastic consumption, minimised shipping costs, reduced rewash and the conservation of resources such as water, electricity and chemical usage."
While chemical dosing systems are not a legal requirement, they can certainly be considered best practice, he adds. "Even chemicals that are considered to be non-hazardous or eco-friendly need to be diluted accurately to work properly and to control costs," says Hayas.
So will dosing systems ever become truly indispensable? They are certainly becoming more useful all the time, according to commentators. For example, Werner & Mertz has incorporated remote management procedures into its mechanical ware-washing and laundry dosing solutions to enable customers to adjust dosage levels remotely and analyse washing performance on an ongoing basis.
Dr Schnell Chemie is also using the latest IoT technology in its dishwasher and laundry dosing systems. "Technicians can now modify dosing settings during remote maintenance and observe them in real time – and businesses with multiple sites are leaning more towards smart device monitoring," said Franz Felbermeir.
Brightwell Dispensers' BrightLogic laundry dosing systems also make a continuous record of chemical usage. "These generate reports on consumption to ensure maximum efficiency and help users to understand their capacity to help them when forecasting new business requirements," said Nicole Mathes.
And Hydro Systems also has an Internet of Things (IoT) platform, Hydro Connect. This cloud-based system is said to give chemical providers and end users increased visibility into industrial laundry and other operations.
Such innovations are increasing the value of dosing systems, according to Hydro Systems' Matt Hayas. "Adoption of chemical dispensing systems is steadily increasing around the world, responding to the demand for cleanliness, sanitation, greater regulation and enhanced efficiency," he said.
"Sometimes there is a perceived cost to end users in terms of the equipment, staff training and maintenance required. However, these perceived costs can be minimised by selecting the right dispenser which will pay for itself many times over."
Related Articles