Evolving mat make-up
19th of September 2017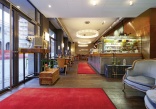 New materials are constantly being introduced into mats to add a specialist function or simply to improve their absorbency, appearance or sustainability. Ann Laffeaty looks at the changing face of mat make-up.
A mat used to be simply somewhere for us to wipe our feet. But mats are becoming more sophisticated all the time and many now offer other functions as well.
For example anti-slip mats and anti-fatigue mats have been developed to enhance our comfort and safety. Other mats are designed to project a certain image or highlight a company's brand values. And many of the materials used in the make-up of mats have changed significantly in order to make them fit for purpose.
Today's highly sophisticated products are a far cry from the first washable dust control mats of days gone by according to Nicola Mihailovski, junior product manager at CWS-boco International. She explains these were developed in the1950s and were generally made of cotton.
"An American cleaning company realised that its staff were spending most of their time cleaning the entrance areas of buildings," she said. "Cotton mop covers were used for cleaning in those days and the company owner was inspired to sew a number of them together. This 'mop cover mat' was then laid out in the entrance area - and that was how the very first dust control mat was created."
CWS began making its own dust control mats in the 1970s, says Mihailovski. "These early versions were made from cotton with a latex rubber backing but today we use fibres made from high-twist nylon to ensure maximum absorption of dirt and moisture," she said.
"The pile is designed to reliably brush off dirt and transport it to the base of the mat. Meanwhile the flattened edges prevent tripping while an anti-slip surface keeps the mat in position. In wetter and colder months this type of mat guarantees sure footing."
Mat manufacturers are continually trialling new materials, she says. "These are designed either to perform existing functions more effectively or to create new, specialist functions," she said. "There is a particular focus on sustainability today and a trend is emerging for the pile to be made of recycled materials. This means, for example, that old bottles or fishing nets can be used to make the pile of a floor mat. However comprehensive tests are necessary to ensure these alternative materials are in no way inferior to conventionally-produced mats in terms of functionality and safety."
CWS works with customers to provide tailored solutions. "Besides our standard mats we also offers mats in a range of customised sizes and colours," she said. "These can be printed with logos or individual motifs in more than 150 standard colours and countless special ones."
Customisation is particularly important nowadays according to Mihailovski. "Dust control mats should dovetail into interior designs regardless of whether the décor is cool and minimalistic, cosy or opulent," she said. "Mats can create a sense of structure in a room and welcome the guests while also indicating the way to the reception, the restaurant and other areas."
CWS products include hard-wearing industrial mats for use in production halls and warehouses; anti-fatigue mat for environments where staff have to stand for extended periods, and Scraper Plus mats which are said to absorb up to 4.8 litres of dry dirt and moisture per square metre. These combine a robust scraper material with a soft high-twist nylon pile effective against finer dirt and moisture.
So today's mats serve many purposes, Mihailovski concludes. "Mats can facilitate room design or alternatively, blend into the background," she said. "And the shape of the mat can be selected to suit requirements. For example curved mats inject dynamism into a room and can be installed to harmonise with striking architecture."
But the main function of a mat is still to clean and dry the shoes effectively according to director of marketing for Checkers Safety Giselle Dirckx. "A proper mat will stop dirt and moisture from being tracked into a facility while also reducing interior cleaning costs and preventing slips and falls on wet floors," she said.
"The size, material and density of the mat play important roles in its ability to perform these functions. And they also having an impact on the durability, water absorption and dirt removal capacity of the mat."
New materials
She says polyamide and polypropylene fibres are typically used in mat construction today. "This is because those materials are sufficiently strong and durable to facilitate brushing and scraping," she said. "They are also crush-resistant which means they hold their structure well and are suitable for large and busy entrances.
"Crush-resistant mats will tolerate more wear and retain their appearance and functionality for longer in high-traffic conditions. And polyamide has superb absorption qualities but is also stain resistant."
Checkers Safety uses Decalon – a 2,750 denier polypropylene yarn - in the construction of its Notrax mats. "This offers good wear resistance and moisture retention while also being able to produce a crisp pattern in coordinating colours," said Dirckx. Notrax industrial matting is made using specialised rubber, PVC or polyurethane foam in order to meet the needs of a range of industrial and production environments.
Traditional barrier mats are made from nylon, cotton or mixed fibres depending on the type of dirt and level of moisture retention required according to marketing coordinator of Milliken Industrials European sales director Paul Griffiths.
"The backing is usually made from nitrile rubber to allow the mat to lie flat after washing," he said. According to Griffiths the most exciting development in the industry in recent years has been the introduction of Econyl nylon 6 yarn into the upper fabric of mats.
"These fibres are derived from items such as old fishing nets," he said. "The nets may have been discarded in the sea or ocean by fishermen and would otherwise have been left to pollute the environment, killing fish and mammals. The fibres can be repolymerised to bring them back to their original basic component parts which means they can then be turned back into virgin yarn."
Milliken uses Econyl in the construction of some of its own mats. "Besides the obvious environmental benefits, Econyl also allows us to be more flexible with the mats we produce," said Griffiths. "For example our new Micromix mat, which uses a unique blend of two different Econyl yarns, has a construction that significantly improves dirt and moisture pick-up compared with that of standard mats on the market." Milliken specialises in logo mats with colourfast photo-quality images on Nylon 6.6 yarn.
Sales manager of The Andersen Company Pieterjan Defoort says the materials used to make the average entrance mat depend on the type of traffic likely to be encountered. "Mats in commercial and heavy traffic environments will typically have a nitrile rubber backing since this is both anti-slip and resistant to greases, oils and chemicals," he said. "For low-traffic areas and domestic use a vinyl or PVC backing is often the material of choice since it has a lower cost than that of nitrile rubber.
Plastic bottles
"The textile surface of a typical entrance mat is made from nylon whereas mats for high traffic areas will have a higher pile height and a greater yarn content. This will enable it to pick up more dust and dirt and then filter it to the bottom of the mat to prevent it from being tracked back into the building."
He says PET yarns derived from plastic bottles are among the new materials to have entered the mat manufacturing arena in recent years. They have a high recycled content and a positive effect on sustainability, according to Defoort. "This new manufacturing technique also has a significant effect on the performance of the product," he said. "And higher percentages of recycled materials are also being used in the rubber backing of the mats."
New from The Andersen Company are Colorstar High Definition logo mats made using a PET yarn. These contain 50 per cent post-consumer recycled content derived from plastic bottles and are stain-resistant and colourfast while offering improved UV resistance compared with traditional nylon logo mats.
"Even the harshest of stains can be washed out while the logo and the colours of the mat remain vibrant," said Defoort. "This significantly increases the lifetime of the product."
The Andersen Company also offers a range of moisture control mats, logo mats, anti-fatigue mats, spill-control mats, kitchen mats, welding-safe mats, antibacterial mats and pool mats.
PVC, polypropylene and polyamide fibres are among the materials traditionally used in mat manufacture according to senior application specialist at 3M Maria Gomez. "Coconut fibre is another very old, traditional material used for matting," she said. "The type of material we use depends on the level of traffic and whether the mat is to be used indoors or outdoors." Newer additions to the company's range include mats made using phthalate-free PVC, polypropylene and polyethylene.
"We are also using more aluminium panels plus inserts made from rubber or textile fibres," she said. "These add various qualities such as mechanical durability and water absorption capacity."
According to Gomez mats with a dual loop construction that incorporate both fine and coarse yarns can provide superior water absorption whereas coarse yarn mats work well as a particle scraper. "Dual loop construction mats also have aesthetic advantages because they can hide and retain the dirt," she said.
Dirt removal key
She adds removing dirt from the shoes is still the chief requirement of a mat. "Customers want optimum performance when it comes to catching, hiding and retaining the dirt coupled with excellent aesthetics and a long service life," she said.
So the mat market is evolving and new materials, new technologies and updated working methods are constantly coming on stream. "New materials and methods allow matting to be engineered to meet the needs of the customer," says Checkers Safety's Giselle Dirckx. "They can also have an impact on anything from colour and dimension to shape, sustainability and attractiveness."
Meanwhile, Milliken's Paul Griffiths feels that sustainability is fast gaining ground in the mat sector. "A 'green' story behind how a product is made is now much more important and issues such as a reduced carbon footprint and zero waste to landfill are becoming a requirement in the market," he said. "I predict that we will soon see a situation in which old mats are taken back for recycling in some form or another."
And CWS-Boco's Nicola Mihailovski believes the quality of mats is improving all the time. "New fabric blends help to increase the capacity of mats to absorb dirt and moisture," she said. "Companies are realising just how flexible mats are and are doing their bit to drive development forward. And the result is an improvement in all-round mats plus new products coming on stream for specialist applications."
Related Articles