Poseidon cold water high pressure cleaners from Nilfisk-ALTO
10th of December 2012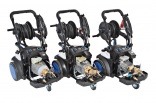 Poseidon 5-6-7 is the new generation of cold water high pressure cleaners from Nilfisk-ALTO. Designed to be practical and simple, Nilfisk says the new line is intuitive and easy to use - reducing time spent on installation, preparation and training.
Ergonomics has also been a priority in the design. For example the spraying equipment reduces fatigue while transport and storage are simplified thanks to the foldable handle.
Poseidon 5 is designed for use up to five hours a day, while Poseidon 6 can be used for five hours and above. Equipped with an industrial class pump, Poseidon 7 is the heaviest duty machine.
Read the latest special ECJ report on high pressure cleaners