Diversey Care surface disinfection
26th of March 2015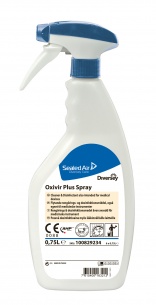 Diversey Care offers a comprehensive range of surface disinfection products with proven and certified bactericidal, yeasticidal, fungicidal, virucidal and sporicidal performance.
The range includes products with Accelerated Hydrogen Peroxide (AHP), quats or chlorine as the active. Products containing the patented AHP, including Oxivir Plus and Sporicide Plus, are fast acting and have broad-spectrum performance.
Diversey Care also claims these solutions are safer for users and on surfaces than chlorine, for example, and are better environmentally because AHP breaks down to oxygen and water.