Interchangeable packs from Johnston Sweepers
28th of November 2011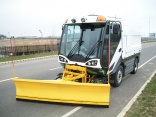 As winter fast approaches, Johnston Sweepers is aiming to solve the costly problem of clearing snow and ice with its demountable winter packs for the C400 midsize and CN101 sub compact sweepers.
The interchangeable functions mean machines can double-up as sweepers or snow clearing vehicles without the extra expense and storage issues of holding two separate units.
The packs include a snow plough for the C400 and a snow blade and spreader for the CN101, which Johnston says can be fitted in around 20 minutes at the first sign of snow, and removed just as quickly when normal sweeping duties are resumed.
The C400 is available with a 3,500 mm snow plough to clear snow from narrow streets and pedestrian areas where access is limited. The CN101 pack features a 1,500 mm snow plough at the front and a grit spreader unit at the rear, which can be fitted in 10 minutes.
The new compact packs can also be retro-fitted to both machines.
Tel: +44 1306 884722. Email: dorking@johnstonsweepers.com