Where is tech taking off?
4th of August 2021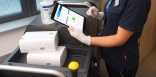 In what types of environments are high-tech cleaning systems that involve elements such as software, sensors, automation, remote tracking and robots proving their worth, asks Ann Laffeaty? And why is this the case?
Cleaning has traditionally tended to be a fairly manual process until recently. True, there is a whole host of equipment and machinery available on the market that can significantly improve the speed, efficiency and end-result of cleaning. Such products include mops, scrubber dryers, microfibre cloths and high-pressure cleaners, for example.
But it is that magic combination of water, detergent and elbow grease that have long remained at the core of most cleaning regimes.
However as in most areas of modern life, technology has begun creeping into the mix. As a result, high-tech methods involving digital systems, robots and sensors are increasingly being used to automate cleaning.
Solutions providers are quick to point out that such technological breakthroughs offer a number of key benefits. They can help to speed up cleaning, for example, while ensuring accurate dosing takes place. And they allow operatives to remotely monitor those areas that need to be cleaned.
But despite all these advantages, take-up of high-tech tools has been sporadic over recent years and has largely depended on how user-friendly and intuitive they happen to be. However, the global pandemic has changed the cleaning landscape and made all of us more willing to adapt and embrace novel solutions.
So, in what types of environments is cleaning technology proving to be most useful? And what are the reasons behind the take-up?
High-tech solutions have become particularly popular in large open spaces such as airports, railway stations, hotels and large office blocks, according to Kärcher's digital solutions product manager Philipp Kipf. And this is because needs-based cleaning in such environments tends to be hugely time-consuming, he says.
"It is easy to see how much time and effort can be lost where large distances are being covered unnecessarily," he said. "For example, the terminal at John F. Kennedy Airport in New York covers more than 350 hectares in area. No matter how intelligently the workforce is deployed it is often necessary for staff to walk long distances in order to get from one place to the next. And this means the process of carrying out visual checks on the cleanliness of facilities and monitoring dispenser refill levels can eat up a lot of time."
Other time-consuming tasks in large facilities include the checking of waste bins and air conditioning filters, he says, adding that Karcher's Dynamic Cleaning solution can address these issues. "This system uses artificial intelligence to quickly calculate the savings that can be made with regard to work, effort and consumables."
Kärcher Dynamic Cleaning uses sensors to monitor footfall and check on the refill levels of washroom dispensers. Notifications are then sent to cleaning staff via a smartphone, giving information on which rooms are likely to need cleaning and what materials and products might be required.
According to Kipf, the cleaning market in general is becoming tougher – and this is having an impact on technological take-up. "While cleanliness and hygiene have become more important as a result of the global challenge of the COVID-19 pandemic, there has been a drop in order numbers in sectors such as office cleaning, hospitality and tourism," he said.
"And while there needs to be stricter cleaning and hygiene measures in place, there is a significant shortage of qualified cleaning personnel. So the use of digital solutions that replace static cleaning schedules and paper-based administration is likely to increase in importance."
Available from Soniq Services - an independent subsidiary of Kärcher – is a software platform said to digitally manage the cleaning process from customer acquisition to service provision and invoicing. [SQ] ONE gathers and uses information from various sources including data from Kärcher cleaning machines.
Another company claiming to have noted an increased demand for technological systems in airports, manufacturing facilities and other large open spaces is Essity. "These types of environment tend to be spread out over a wide area and may incorporate multiple facilities with a high footfall," said the company's product management director Charishma Kothari. "Traffic is difficult to predict in these places and there tends to be sudden unexpected peaks in traffic."
Time management
Other areas where demand has increased over recent years include healthcare facilities, large offices, colleges and universities, she said. "The cleaning staff in such environments will have many commitments which means managing their time is critical," she said. "Knowing when and where they are likely to be needed has never been more important, and having access to real-time data makes this possible."
Essity's Tork EasyCube uses sensors in washrooms and throughout buildings to monitor washroom dispenser refill levels and general footfall. Cleaners are then alerted via a smartphone app when a dispenser is running out or when a cleaning issue is likely to arise. "Sensor technology makes it easy to monitor real-time traffic," said Kothari. "When thresholds are determined, management and cleaners are alerted to essential needs."
The company also offers Digital Cleaning Plans which are said to help streamline the cleaning process, and Tork Interactive Clean Hospital Training. This is an online and interactive training and support package designed to provide cleaning insights to cleaners and facility managers.
While demand for technology tends to be at its highest in large open spaces, Kothari believes high-tech systems can be useful anywhere. "Software-based systems such as Tork EasyCube and Digital Cleaning Plans can work well in smaller spaces, too, where remote access to real-time information on product supplies and foot traffic levels can virtually eliminate the need for any unnecessary checks by the cleaner," she said.
ICE offers a range of autonomous vacuums, scrubber dryers and sweepers – and these are proving popular in a wide range of environments according to the company's marketing manager Ellen Gasson.
"Our machines are now in use in manufacturing plants, warehouses, schools, airports, railway stations, hospitals, hotels and in the retail sector," she said.
"With the pandemic at the forefront of our minds there has been a higher demand for such systems that allow for automated and socially distanced cleaning."
ICE's Co-Botics machines are designed to operate alongside human cleaners, allowing operatives to focus on the more detailed tasks. "Demand for autonomous floor cleaning equipment is gathering pace, possibly fuelled by our heightened infection control priorities and the need for operatives to maintain an appropriate distance from other people," she said.
She believes the profile of cleaning will change dramatically in the future. "Sanitising, infection control and measurement will all be key areas for ensuring clean and safe environments, and businesses will need to demonstrate to employees and visitors that their facilities are hygienic and safe," she said. "As a result there will be a greater demand for 'proof of clean'."
Changing profile
However, she sees no reason to believe automated systems will be used to replace people. "The profile and importance of cleaners and the industry as a whole has increased dramatically over recent months," she said. "We believe this trend will continue, and the public will increasingly look to cleaners as a visible resource to provide confidence all environments are being cleaned and kept sanitised."
So in a precarious health landscape with uncertainty being created about the ever-fluctuating levels of COVID-19 around the globe, how will the role of cleaning technology develop in the future?
High-tech solutions will continue to prove particularly useful, says Essity's Charishma Kothari. "By using sensors to track supply levels, individual dispenser checks can be eliminated - and this will create additional time for cleaners to adhere to the new standards and requirements," she said. "And traffic trackers across a facility will allow more time for staff to carry out detailed cleaning."
Kärcher's Philipp Kipf agrees that demand for technology will only grow. "The significant shortage of specialist workers in the cleaning sector makes the strategic use of existing workforce members all the more important," he said. "And one factor that helps to meet these requirements is the use of suitable cleaning technology, since this improves the efficiency of work processes and allows companies to remain competitive."
ICE's Ellen Gasson concurs. "We believe that today's higher demand for automated and socially distanced cleaning will certainly impact the way in which cleaning is carried out in the future," she said.