The alternative to 'glug glug' cleaning chemicals
9th of August 2013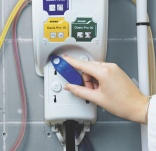 Free pouring chemical, often referred to as 'glug glug', from a concentrate to create a ready-to-use solution is not an unusual practice. However, it does pose several challenges in addition to the obvious safety issues.

These challenges include the financial impact of using too much chemical, poor cleaning results from using incorrect amounts or wrong products, and missed sustainability opportunities due to additional packaging waste and related C02 impacts during transportation. Writing for ECJ Nick Burchell, senior marketing manager, communications, Ecolab Institutional Europe, examines the alternatives.
There have been many attempts in the market to overcome the challenges of dispensing using various methods of dosage control, but there are few solutions that can effectively address all the challenges. It is true; developing ready-to-use solutions from concentrated products calibrated for local conditions is the best approach to achieve excellent results in the safest manner. It is also the most economical for buyers and delivers greater impact from a sustainability perspective. In this article, we uncover the benefits of opting for a dispensing system using super-concentrated products.
Safety first! Ensuring safety in the workplace is one of the leading forces in business and effective cleaning is highly integrated with safety. If you have ever witnessed an operator decanting aggressive acid bathroom cleaner from a 10 litre container into a trigger spray bottle, you notice a few things. Even if they are using a funnel, it is rarely the case there are no spills and, if they are not wearing the appropriate Personal Protective Equipment (PPE), these spills will likely come in contact with the skin or lay in wait for someone to slip and fall.
Risks and hazards are two different thing - a hazard is something that has the potential to cause harm. For example, based on the CIP classification, an oven cleaning chemical or bleach has the potential to cause harm if splashed onto the skin or into the eyes; they would therefore likely be identified as 'hazardous'. On the other hand, a washing-up liquid or hand soap would not be identified as 'hazardous' since they do not have the same potential to cause harm. A risk is the likelihood of harm being done - in the examples above, harm only occurs when the 'hazardous' substances comes into contact with the skin or eyes, so the greater the chance of this happening, the greater the risk.
When a cleaning team is using too little, too much or the wrong product, results suffer, and this can reflect poorly on the brand. Customers vote with their feet and knowing that hygiene ranks very highly in all customer settings for satisfaction, the impact from sustained poor hygiene can directly affect business growth and damage a brand. Using too much product poses a double impact because it also puts pressure on cleaning budgets and adds additional cost to the business, so efficiency is important.
Another area in which free pour can have a negative impact is sustainability. This mainly occurs on two levels; additional packaging material and transportation. The sustainability credentials of free pour chemicals versus lock and key dispensed solutions are typically less because free pour products often contain more water and less active ingredients, so they need a higher dose per end user container to offer a result first time. The more a business needs to use, the more packaging required.
Environmental impact
Packaging for free pour chemicals is often basic, typically five or 10 litre containers and, versus super-concentrates, they have a higher percentage of plastic, paper and cardboard. With transport costs rising, the cost of carrying a higher volume increases and so does the environmental impact.
After examining the challenges associated with free pour products, it is the dispensing systems that begin to offer some solutions. Dispensing technologies have been on the market for some time. Ecolab has a long history of breakthrough innovation. For example, Ecolab pioneered solids and dispensing technologies in warewashing and then expanded this platform to a variety of other markets and applications including building cleaning and housekeeping. Through working closely with customers at their locations, a range of systems have been developed that suit many different environments.
Products are dispensed through equipment designed to ensure accuracy and consistent results, while helping reduce the chance of misuse. This offers huge safety benefits through reducing the risk of a product that has the potential to cause harm. The safety benefits are increased further by using products with packaging that eliminates contact with the concentrate.
Exact dosing ensures only the correct amount of product is used, which offers enormous cost benefits. It enables the job to be done right first time, which in turn helps control spend and ultimately protect the brand.
The environmental benefits are also very real and tangible. Dispensing in conjunction with concentrates permits the use of less packaging per use compared with free pour or ready-to-use alternatives, a benefit that produces less waste. Choosing a concentrate also helps reduce CO2 emissions released into the environment as they are easier to transport, so the overall efficiency of dispensed concentrated cleaning products makes them ideal for customers seeking to reduce their environmental impact.
One example of this is Ecolab's Oasis Pro 40 Premium – one two-litre pouch of super-concentrated glass and multipurpose cleaner makes up to 400 ready-to-use bottles, which are screen printed and designed to be used time after time. Interestingly, an empty pouch constitutes only 26g of plastic waste verses the equivalent of a staggering 26kg of ready-to-use bottles. If one standard truck was full of Oasis Pro Premium pouches, the equivalent in ready-to-use products would require 105 trucks.
Dispensing systems often have no additional cost to the customer. Although Ecolab owns its dispensing equipment, the company provides it to most customers at no cost. With regular service delivered personally by Ecolab territory managers, not only are systems kept in tip top condition, but teams are regularly trained to ensure that correct procedures are followed.
In summary, dispensing systems, in conjunction with super-concentrated products, offer greater safety, better results and efficiency at a lower cost with provable sustainable credentials. To ensure that customers select the right solution, it should be done at the unit level by an expert, because dispensing is just part of the overall cleaning regime and having that expertise on hand to help set up the most effective solution is paramount to overall success.