The ergonomics of sweepers
26th of January 2015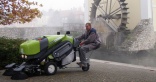 How important are factors such as comfort, ease of use and safety in a ride-on sweeper? Ann Laffeaty asks sweeping machine manufacturers about the latest ergonomic enhancements they offer - and finds out how much of an impact these have on productivity and performance.
Ride-on sweepers are increasingly becoming the preferred option for anyone needing to clean away dirt and debris from larger outdoor or indoor areas. It makes perfect sense for the operator to be able to sit down in relative comfort rather than walk behind a sweeper for long periods of time – a practice that can lead to fatigue, backaches or other pains.
However, an increasing number of manufacturers are going one step further by introducing refinements such as heated cabins and air conditioning. And at the same time they are offering improved safety features while also making their sweepers easier to use. But how necessary are these enhancements, and do they have a effect on the overall clean?
Tennant Americas senior vice-president Rusty Zay says comfort is one of the focus points in his company's ride-on sweepers. "We have to adapt our products to our worldwide customers' needs since Tennant sweepers are used across the globe in very different conditions," he said. "For instance they are employed in desert environments where air conditioning is an absolute requirement as well as cool, northern environments at high altitudes where heating is essential.
"Our sweepers are also used in heavy manufacturing sites where a robust overhead guard is required to protect the operator."
Tennant also offers adjustable seats and steering columns and takes into account factors such as the varying heights and weights of operatives; the need for easy access into the cabin and the importance of adequate legroom for operatives.
"We shadow operators in their daily tasks and ask them how they use their current machine to analyse how we can improve their comfort still further," explained Zay.
He says the company also ensures its sweepers are easy to use. "Many of our machines are equipped with a one-step button that activates all necessary functions," said Zay. "Other sweepers have an 'all-levers forward' function which means that all sweeping functions are activated when the levers are in the forward position. These simple and intuitive controls allow the operator to focus on the cleaning job rather than concentrating on any complex functionality."
The operator experience is critical, according to Zay. "The more user-friendly the machine and the easier it is to operate, the more confident the operator will feel and the happier he or she will be to use the sweeper," he said. "There will also be a positive impact on productivity."
Depending on the model and its application, safety features of Tennant sweepers include automatic shut-off when the operator leaves the seat; automatic parking brake; an easy-to-access horn; a parking brake light and a low step to provide easy access into the cabin.
"There is also a ThermoSentry system that monitors the temperature in the hopper," said Zay. "When the operator picks up a hot item that could cause combustion, action is taken by the machine to reduce the risk of fire."
Enhanced comfort
According to Zay, enhanced operator comfort is taken into account with each new phase of product development. "The idea is to find a good compromise between comfort, productivity and a reduced cost of ownership," he said. Latest ergonomic features of the company's ride-on sweepers include extra legroom and an air-suspended seat.
Power steering, reduced vibration and low noise are among the operator enhancements of Nilfisk-Advance's ride-on sweepers according to group product manager Thomas Tykskov.
"We also ensure that operators have a clear view of the area to be swept so there will be no need for them to lean out of the machine to see the side broom," he said. "This is not only ergonomic, but also safer for the operator."
Ergonomics and ease of use are both key when designing a ride-on sweeper, according to Tykskov. "Sometimes the machine will be used by the same operator for a full working day in which case it must be both comfortable and user-friendly," he said. "On the other hand, the machine may have to be used by several operators which means it should also be easy to understand and operate."
Refinements offered on Nilfisk sweepers include an overhead guard, canopy kit and a pressurised dust-free cabin. "All our cabins can also be equipped with heating, air conditioning or both," he said.
According to Tykskov the logical controls of Nilfisk-Advance's sweepers make their operation almost self-explanatory. "However, the operator should undergo training to ensure they can operate the machine correctly for optimal performance and dust control," he adds.
Emergency stop
Safety features on Nilfisk-Advance machines include an emergency stop button; a hopper safety arm and a dust control system. "This sprays a fine mist over the side brooms to control the dust which helps to improve indoor air quality," he said.
When developing new cabins, the company focuses on factors such as easy access, low noise levels and a clear view of the area to be swept. "Our latest user-friendly features include a large, ergonomic operator compartment plus an easy-to-change filter and broom system that requires no tools," said Tykskov.
Kärcher's environmental public relations officer Linda Schrödter says it is important to ensure that a ride-on sweeper is both safe and comfortable for the operative.
"The user should not be afraid to operate the machine, and frequent changes of driver should not be a hindrance to safe handling," she said. "If the operator feels comfortable and safe in the cabin they will enjoy using the machine and will use it correctly."
She says a minimal amount of training is required when using a Kärcher ride-on sweeper. "We have placed special emphasis on our easy operating concept," she said. "All controls are highlighted in yellow so that the user can home in on them immediately.
"Our Kärcher Intelligent Key (KIK) system also allows the parameters of the machine to be defined before cleaning which means the operative simply needs to start the machine. And the KIK system also enables programming to be carried out in different languages which means the operative can be taken through the operating instructions in his or her own language."
Latest ergonomic features of Kärcher's ride-on sweepers include a reduced entry height, a seat with enhanced comfort and an ergonomic steering wheel setting, she said. "A variety of attachment kits can also be fitted to adapt our ride-on sweepers to individual requirements as well as the machine's area of operation," said Schrödter. "For example we can offer a cabin with either heating or air conditioning; a weatherproof deck and an overhead guard for the driver that can be fitted with a windscreen and windscreen wiper."
Safety features of Kärcher's ride-on sweepers include a rotating beacon and lights for when driving at twilight or in public areas. "We also offer dust-free disposal," said Schrödter. "Our refuse bag-filling system prevents any unnecessary dust pollution. And our machines also have improved traction on slippery surfaces and rough ground."
She adds that the company is continually working towards making its cabins comfortable for cleaners. "Ride-on sweepers are usually used in very hot or cold environments and need to be able to protect the user when working in extremely dusty surroundings," she said. "A comfortable cabin is important not only for health and safety reasons, but also to make the operator feel good."
Early stages of development
Hako sets great store by ergonomics in its ride-on sweepers says application technology trainer and consultant Klaus Serfezi. "We bear comfort in mind from the very early stages of development and pay a great deal of attention to ergonomics," he said. "We use prototypes to question people of different height and body weight about the comfort of the driver's seat and whether the operating elements are arranged conveniently. This procedure helps us to develop a comfortable workplace for the machine operator right from the start."
According to Serfezi the basic functions of Hako machines are easy to learn and more or less self-explanatory. "However, larger machines are equipped with a comprehensive range of features that require additional explanation and learning," he said. But he adds that the simpler sweeping tasks are straightforward even on larger machines. "Most features are one-button controlled and not that difficult for the operator," he said.
Better cleaning result
He adds that the easier a machine is to operate, the better the cleaning result. "Easy handling prevents operator errors and we have to consider the fact that ride-on machines are sometimes a person's workplace for an entire shift," said Serfezi.
He says the seats on Hako ride-ons are both adjustable and comfortable. "All operating elements are also within easy reach," he said. "Air-sprung comfort seats are available upon request and there is an option to access the machine from either side which is important in potentially hazardous situations."
According to Van der Reest Machines director Johan van der Reest, ride-on sweeper customers are becoming more demanding all the time.
"It is important to make machines user-friendly and easy to operate, and most of our models require little training," he said. According to van der Reest, around 70 per cent of the models he sells offer comfort enhancements. "A safety belt, headlight and back-up alarm are all standard safety features," he said. "Some models also offer over-pressure cabins, sun-protected windows and air suspension seats."
He adds that ride-on machines offer productivity benefits over walk-behinds. "When you have a ride-on and a walk-behind machine with the same working width, the ride-on machine tends to be 40 to 60 per cent more productive," said van der Reest.
However, he adds that there is no current drive to make cabins more comfortable for cleaners. "That may happen in the future, but at the moment the most important thing is to offer the cheapest price," he said.