Tubing matters
13th of July 2017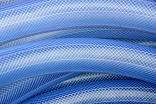 Proper tubing selection is vital to maintaining regulatory and environmental compliance as well as effective, long-lasting product and equipment performance and consumer safety. Lily Lei, global marketing manager, process systems division at Saint-Gobain Performance Plastics, explains.
The industrial and institutional (I&I) cleaning industry spans multiple dynamic markets and applications. From facility and building cleaning applications to dishwashing, warewashing and commercial laundry in hospitals, hotels, restaurants, food and beverage processing plants and more, the demand for I&I cleaning products is ever-expanding.
In fact, the I&I chemical industry was valued at €34.9 billion in 2014 and is expected to grow to €45.8 billion by 2020, according to the Industrial Cleaning Market by Ingredient, by Application and by Product - Global Trends & Forecast to 2020 report by Research and Markets.
That growth is driven largely by a few key factors, including the growing concerns about sanitary standards and consumer safety, as well as advancements in technology, along with a growing demand in developing Asia-Pacific countries such as China and India — among many others. Plus, outlying factors like an increase in global travel and commerce have an impact on the rising need for I&I cleaning products and solutions due to potential cross-contamination across borders.
Among the fastest growing markets in the professional cleaning industry are hospitality, healthcare and food and beverage industries.
The hospitality and recreation industry is far-reaching and includes restaurants, hotels, bars, cruise ships, gyms and more. It continues to be one of the largest and most dynamic industries because of the sheer volume of applications and environments or materials that require consistent, rigorous cleaning. Food utensils in restaurants, sheets in hotels, gym equipment in a recreational facility and drinking glasses in a bar, just to name a few, are all required to be routinely sanitised following a strict cleaning process.
From hospitals and nursing homes to residential and respite hospice care, the healthcare industry also includes many facilities and applications, which all require stringent cleaning products and procedures to keep their environments sterile from bacteria and human contaminants.
Healthcare is a very large industry globally and only continues to expand. According to Maps of the World, there are more than 69,000 healthcare facilities in China alone, followed by India (15,067), Vietnam (12,500) and Nigeria (11,588). The USA is also included in the top 10 global list for total number of healthcare facilities with more than 6,300, as reported by the American Hospital Association.
The food and beverage (F&B) industry is also a large driver for change within the I&I cleaning industry. Growing incidences of food-borne illness have prompted the F&B industry to increase its standards and regulations in order to maintain hygiene and sanitation during manufacturing and end distribution.
No matter which market, the core goal of the I&I industry is to provide a cleaner and safer environment for employees and end users.
While the I&I industry has continued to experience steady growth over the last decade, it has not been without its challenges for manufacturers and end users.
One of the biggest challenges is the increasing number of government and industry regulations related to safety and hygiene. These include strict sanitation standards that both fluid handling system manufacturers and end users must meet in order to remain compliant with industry regulatory bodies, government authorities and more.
For instance, some of the world's largest markets for chemical cleaning products include North America, Western Europe, China and Japan. Each region has its own regulations that manufacturers and end users must meet, which depend upon market type, specific country standards and more. I&I cleaning is a heavily regulated industry, where stringent standards are put into place to protect consumer health and safety.
Another challenge is an increase in the number of consumers with heightened awareness of and alarm about health and hygiene measures, which is continuing to increase public and regulatory scrutiny.
Further, there is an ever-rising demand for cleaning products and solutions that are environmentally friendly. Understanding the volume of cleaning products employed around the globe, it is crucial the chemicals and fluid transfer system materials being used - and disposed of - can easily be broken down or recycled so they are not harmful to the environment.
Today's corrosive chemicals
As a result of more stringent sanitation standards and regulations, the chemicals used in cleaning applications have in turn also become more aggressive to combat tough bacteria and viruses.
Volatile acid cleaners are being used more often today than the previous chlorine-based chemicals. With an increase in chemical corrosiveness also comes concern about their impact on the environment and consumer health and safety, as well as increasing performance demands for cleaning equipment.
While these critical fluids present a unique challenge for manufacturers — which must engineer fluid handling equipment that can withstand the chemicals' harsh nature while also protecting consumer safety — they have also presented a challenge for end users looking to maintain the life of their cleaning equipment, where chemical corrosiveness can cause damage or failure in system components.
To be effective in the highly regulated industry of I&I cleaning and also maintain fluid handling equipment performance, system components must be resistant to the harsh chemicals found in various cleaners used during the sanitation process. This includes tubing that should meet specific performance criteria to ensure the system will function properly, remain compliant and achieve longer service life.
Chemical compatibility and flexibility of tubing are two of the most important performance criteria to ensure optimisation of the sanitation equipment, as well as environmental and regulatory compliance.
Tubing must deliver durable performance in volatile cleaning environments where harsh chemicals are used - providing a combination of chemical resistance, clarity and flexibility. It must be virtually unaffected by acids, bases, ketones, salts and alcohols, which should be demonstrated by rigorous testing of physical and chemical-resistant properties.
End users should also seek chemical-resistant tubing that is also plasticiser-free, eliminating fluid contamination as well as premature brittleness and cracking. And the tubing should have a smooth inner surface to provide better flow and inhibit particulate buildup, along with low sorption to minimise cross-contamination and maintain media purity.
Compliant
For chemical transfer applications that have final products subject to Food and Drug Administration (FDA) approval, users should utilise tubing that complies with the FDA Packaging and Food Contact Substance (FCS) Regulation. Where relevant, tubing should also comply with regulations set by the EU, including Regulation of Registration, Evaluation, Authorisation and Restriction of Chemicals (REACH) and Restriction of Hazardous Substances (RoHS).
As the I&I industry evolves, the challenges of harsh chemicals and government regulations for manufacturers and end users will evolve as well. Flexible tubing solutions will need to deliver peak performance while being regulation-compliant across all fluid transfer systems.
One effective course of action manufacturers and end users can take to ensure cleanliness, safety and regulatory compliance in chemical transfer applications is to evaluate and specify appropriate fluid handling system tubing solutions.