Home › magazine › latest news › Toilet tissue for smartphones trialled in Japanese airport washrooms
Toilet tissue for smartphones trialled in Japanese airport washrooms
28th of December 2016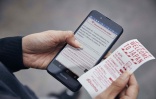 The Japanese already have a well-established reputation for their hygienic washrooms. Now they are raising the bar even further with the introduction of 'toilet tissue' for smartphones at Narita International Airport in Tokyo.
Users are invited to pull off a piece of paper from a dispenser next to the regular toilet roll and give their phone screens a good clean.
The smartphone sheets, which bear the message "welcome to Japan", were installed in 86 cubicles at Narita's arrivals hall this month, according to the Mainichi Shimbun.
The telecoms company behind the service, NTT Docomo, said the option of an extra wipe would remain until next March.
The introduction of the cleaning paper came in response to studies showing that smartphone screens typically hold more germs than toilet seats.
The paper also holds details of Wi-Fi spots and other travel information.