Home › magazine › latest news › Notting Hill Carnival clean up completed
Notting Hill Carnival clean-up completed
19th of September 2023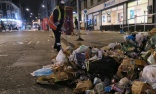 Clean-up crews were obliged to work through the night to remove the huge volume of debris left behind after this year's Notting Hill Carnival.
A total of 30 refuse trucks were deployed to take away 300 tonnes of rubbish from the streets - which is roughly the weight of 25 London buses.
A skip full of empty laughing gas canisters was among the items cleared away by a team of more than 200 cleaners. Other detritus included massive piles of takeaway boxes and mountains of drink cans.
Kensington and Chelsea council councillor Emma Will said the clean-up was the most significant task the council had to undertake after the carnival.
"While Carnival beautifully represents our diverse and multicultural community, our aim is to swiftly bring the streets back to their regular state, causing as little disruption as possible," she said.
"A heartfelt appreciation goes out to the SUEZ waste collection teams and all those who put in their nighttime hours to make this restoration possible.
"With 30 per cent of the waste being recycled and the fact that chemical-free, waterless toilets were used at the event, we're committed to making Carnival greener in any way we can."
Food waste was collected and composted along with waste generated from the 1,000-plus toilet facilities.