A quick cleaning fix in the kitchen
8th of August 2013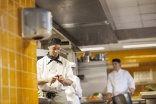 Cleaning and hygiene should never be compromised in a food preparation area. But it can be hard to maintain scrupulous standards in a kitchen where staff are habitually rushed off their feet. We ask companies what systems they offer that combine high hygiene levels with speed and efficiency for optimum food preparation cleaning.
Speed is of the essence when preparing food for hungry customers. But it is even more important that high levels of hygiene are maintained. So any system used for cleaning in a food preparation environment – whether it is a machine, a chemical solution, a hand soap or a wipe - should be both easy to use and quick to take effect.
But kitchen cleaning falls into two distinct camps. On the one hand there are steam cleaning systems, disinfection programmes, scrubber dryer machines and other specialist systems designed for carrying out a thorough deep clean when the area is not in use.
But the kitchen is a messy place and spills of oil, grease and organic substances will need to be cleaned away from surfaces on the spot, while greasy spills on the floor should also be removed before they can become a slipping hazard for staff. This means that kitchen workers must have immediate access to wipes, detergents and mops to enable them to remove any unexpected spills which could become a health or safety issue.
For this reason, cleaning products for a 'quick fix' should be located in strategic positions to make them easy to find in a crisis says Amelia Baker, product and segment manager of Tork manufacturer SCA. "If somebody spills a substance on the food counter such as oil, syrup or meat juices, it needs to be cleaned up quickly to avoid contamination and to prevent the surface from being out of action for any length of time," she said.
"Wiper rolls are often left on kitchen work surfaces for this purpose but the reality is that many will go missing – either because they have rolled on to the floor or moved from one surface to another and then lost. If a lockable dispenser is provided in a location where everyone can see it, less time is wasted looking for a wiper when one is needed."
According to Baker a good kitchen cleaning regime should involve a daily clean-down combined with repeated surface wiping during the course of the day. "However, any risk of cross-contamination must be avoided and if that means sacrificing speed, then so be it," she said.
"Time-loss can be avoided by having the right tools for the job at hand. It is also crucial that suitable products are made available and that dispensers are kept replenished at all times since this allows valuable time to be spent on cleaning rather than on refilling."
The latest time-saving product in the Tork range is the Tork Reflex Single-Sheet Centrefeed system, formerly the Reflex system from Lotus Professional says Baker. "This enables a single sheet of wiper to be pulled out quickly whenever it is needed." The wipes are available in a portable dispenser as well as in a wall-mounted version.
Strategic positions
For rapid surface cleaning, Tork also offers a plastic bucket containing low-lint cloths that can be filled with any surface cleaning solution. "This product then soaks into the wipers and provides cloths that are ready to use," said Baker. The company also makes colour coded cloths to allow staff to segregate cleaning tasks by colour, plus an alcohol hand gel. However, Baker recommends
hand washing with soap and water wherever possible.
She claims that the company's Tork Foam Soaps – available in an antibacterial version for food preparation areas - are quick to lather and housed in a dispenser that is particularly easy to use for when speed is of the essence.
Hagleitner also recommends the use of pre-prepared wipes in the kitchen. "These guarantee a simple and secure method of cleaning without the risk of inaccurate dosing," said Christina Schwaiger, Hagleitner kitchen and laundry hygiene product manager. "They also leave surfaces ready to use again immediately afterwards."
Hagleitner's Hup system is said to combine hygiene with speed and efficiency. It comprises moist wipers in a box with a reclosable lid to protect the wipes from drying out or becoming contaminated before use. "The 90 large wipes can easily be taken out of the box one by one and each is capable of cleaning an area of between four and six square metres," said Schwaiger.
She agrees that kitchen staff need to be able to clean floors and surfaces both quickly and efficiently. "However, high standards of hygiene are absolutely essential in the kitchen and these should not be compromised by a hasty clean," she said. "When a quick fix is required, the working process need not be disturbed since staff can quickly clean surfaces. Hand cleaning is also important so staff should take any opportunity to wash their hands where possible."
She adds that thorough cleaning can be carried out speedily when the right product is used. But application specialist at Hako Klaus Serfezi disagrees.
"A good result is not achieved by quick cleaning, but by thorough cleaning," he said. "This is true for all hygiene-sensitive areas whether in the food industry, hospitals or nursing homes."
He claims an automatic scrubber dryer can significantly reduce cleaning times when compared with manual methods.
"As a rule kitchen staff don't have time for cleaning on top of their food preparation work, and this is why kitchens are equipped with extrusive safety tiles to eliminate any slip hazard," he said.
According to Serfezi, manual cleaning with a mop will not achieve a satisfactory result on safety tiles. "The standard procedure would be to use a scrubber and a high pressure cleaner, though this would not be possible during a busy daily routine," he said. "Quick in-between cleaning is only possible when employing an automatic scrubber dryer."
Hako offers machines with antibacterial tanks for use in hygiene-sensitive food preparation areas. Hako-AntiBac is claimed to protect the inner surface of the tank from bacteria, fungus and
spore growth while also reducing unpleasant smells.
Hand hygiene key
Kärcher category manager Gilles Troff agrees with Serfezi that there is usually no time for thorough kitchen cleaning during food service hours. "From my experience, spills in most kitchens are not cleaned up - they are pushed down the drain with a squeegee," he said. "But thoroughness should always be the priority in any place where food is prepared."
Like Serfezi, Troff advocates the use of a compact scrubber dryer to keep kitchen floors dry and slip-free. He claims Karcher's own BR 40/10 C model works well since it is both small and manoeuvrable and can be used for scrubbing, vacuuming up water and polishing.
"Mechanical floor cleaning with a fast, deep action such as roller brush scrubber dryers are useful, but only after work," he adds. "Normally during the cooking operation there is no time for cleaning."
Hand hygiene is key to any kitchen hygiene regime according to Gojo European marketing manager Suzanne De Maine. "By using the right formulations and systems, hand hygiene can be both quick and thorough for employees," she said.
"It becomes second nature and not a chore if dispensers containing formulations that are pleasant to use and provide protection for the skin - while also providing the required antibacterial protection - are sited at key locations."
Gojo offers touch-free dispensers, an antibacterial foam soap and a mild foam hand wash plus Purell Advanced Hygienic Hand Rub for when speed is of the essence.
Operations director at kitchen deep cleaning company KGB Cleaning and Support Services Tony O'Shea says staff need the right tools and training to enable them to clean up spills quickly. "Health and safety is a big concern and any spill, especially on the floor, can cause a significant hazard for those working in a kitchen," he said. "Staff need to be supported by managers and cleaning teams who can advise them on the right methods to ensure that any health hazards are removed quickly and efficiently."
Hygiene is also a major concern, he adds. "Issues surrounding food are rarely out of the headlines and the negative publicity that accompanies a scathing hygiene inspection or food poisoning outbreak can have a devastating effect on any catering business – from a Michelin-starred restaurant to a corner café – as well as causing great discomfort and distress for those made ill," he said.
Experienced cleaning
"An experienced contract cleaning company is a great ally for any food preparation business since it will help staff to comply with relevant legislation and ensure that hygiene and safety standards are up to scratch."
He says staff training and the right equipment are both important in providing kitchen staff with the tools to deal with spills that need to be cleaned up there and then.
"This should be complemented by management and reporting procedures so that your specialist cleaning team can follow up swiftly and check that the cleaning has been carried out properly - and then rectify any problems," he said.