Home › magazine › business reports › Navigating facilities services challenges post lockdown
Navigating facilities services challenges post-lockdown
3rd of February 2021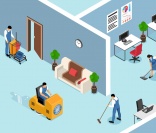 PHS, which delivers a range of facilities services, recently carried out a survey into the impact of Covid-19 on building usage. It found that the cleaning sector faces the significant challenge of having to maintain impeccable hygiene levels to keep buildings clean, and inspire confidence in users. Darren Hawkins, its head of FM, tells us more.
A good cleaning protocol is a staple in the running of any building. From the perspective of building users, it's simply something to be expected, usually behind the scenes and, until now, often taken for granted.
However, the coronavirus pandemic has disrupted the entire cleaning industry. Everyone is now looking at cleaning in unscrupulous detail and the spotlight is well and truly on cleaning professionals like never before. Hygiene has become the number one priority for every building top down; from the building owners and managers right down to the building users. And with the risk that Covid-19 poses and the part that cleaning has to play in reducing transmission, understandably so.
But what's also changed considerably is the way we're using our buildings. At phs, we have a unique insight into the impact of the coronavirus on organisations due to types of services we deliver. We have used our own data based on 120,000 customers across all sectors and throughout the UK, alongside data from around 300,000 service visits to premises each month to create the phs Index, a barometer for the impact of Covid-19 on building usage.
We discovered that, during lockdown, a total of 43 per cent premises shut down; a significant proportion of buildings across the UK. By September, a total of 95 per cent of premises were open which is positive news but this still means that nearly one in 20 were still shut down. Unsurprisingly, accommodation and food services was the worst-affected sector with 73 per cent shutdown at the peak of closures; eight per cent were still closed by September.
As another sector which brings people together the arts, entertainment and recreation sector was also hit hard with 62 per cent of premises closed at the peak; 11 per cent were still closed in September, more than double the national average.
And demonstrating the movement towards home working and impact upon businesses, 38 per cent of financial, insurance, administration and support service premises were closed at the peak with 11 per cent remaining closed in September. With widespread school closures, the phs Index also reveals 43 per cent of education sites shut down at the peak but by the start of the academic year, 99 per cent had reopened their doors.
Building occupancy down
However, open and closure rates alone don't tell the full story; the phs Index has also found that fewer people are using these buildings. The white paper reports that over the course of four months, the amount of washroom waste generated within buildings was 49 per cent lower year on year. As washroom waste is a good proxy for building occupancy, this indicates that building usage almost halved across this period.
Even when most buildings had reopened, they were still much quieter with the phs Index suggesting occupancy is down 17 per cent compared to pre-Covid and indicating building usage is far from normal with people not fully returning.
And now of course we have a new set of restrictions to curb a second wave of the coronavirus including limits on social interactions, curfews on pubs and restaurants, a renewed appeal to work from home, local lockdowns and a new three-tier system in England. All of these will contribute to a further drop in building usage and potentially herald the risk of repeated closures.
As we battle to overcome the challenge in front of us, the cleaning industry faces the biggest hurdle; the absolute necessity of maintaining impeccable hygiene levels to keep buildings clean and safe for all users. And this applies across all sectors whether it's keeping children in school, entertaining diners, welcoming shoppers, enabling staff back into workplaces or continuing to allow people to access essential services as safely as possible. People will only return to buildings not just when they are Covid-safe – but when they are also perceived to be Covid-safe.
As part of the phs Index, we commissioned independent research to ask consumers how they felt about entering local organisations whether this be their workplace, local shop or restaurant, healthcare provider or another venue they'd usually visit.
Astonishingly, more than a quarter (26 per cent) were not confident about the hygiene measures within these premises; 17 per cent saying they were "not very confident" and a further seven per cent saying they were "not at all confident".
In today's pandemic, robust hygiene is something we should all rely upon in keeping us and the people around us safe. More than a third (35 per cent) of consumers went on to admit they were not confident in social distancing practices within these premises; 26 per cent saying they were "not very confident" and an additional nine per cent saying they were "not at all confident". That's nearly one in 10 people who say they have no confidence in being able to socially distance in these local premises which is another categorically essential element in limiting the spread of the coronavirus.
What's not clear is how many of these consumers lack confidence because of poor experiences or due to their perception of the risk. However, both scenarios will contribute to discouraging people from returning to premises.
Organisations have a responsibility to protect building users from harm; including taking reasonable steps to protect them from Covid-19. Hygiene is crucial in limiting the transmission of the coronavirus and it is essential that more resource is ploughed into the sector to support it. While they may already be established, regular cleaning protocols need to be increased and reviewed frequently to ensure they are aligned to building usage; disinfecting all surfaces with particular focus to surfaces which are frequently touched or in high footfall areas.
Clear surfaces for easy cleaning
Consider clearing out unnecessary clutter and keeping surfaces clear to make cleaning easier; this could include anything from empty-desk policies to new regimes for compacting and managing waste. Regular cleaning throughout the day with scheduled deep cleans and sanitisation will reduce the risk of transmission and surface swab testing can identify potential outbreaks quickly meaning you can act decisively and limit the spread. Equip users with the tools they need to promote hygiene such as providing cleaning products and wipes for items which are frequently touched such as phones, buttons, handles and within washrooms.
And while loose bottles of hand sanitisers placed on tables outside premises are convenient, they are the minimum users should expect. Exchanging these for permanent sanitising units at entrances, doors, high footfall areas, kitchens and washrooms will promote usage – and reminders and prompts will encourage regular hand washing.
Your entrance is the first thing people see as they approach your building; sleek, professional sanitising welcome stations demonstrate how seriously you're taking hygiene and you'll also be appealing to users to take it seriously too.
There are also measures you can take to reduce the need for cleaning as well as promoting social distancing. Limit the movement of people where it's not necessary, close off areas that aren't needed, reduce excess equipment and prop non-fire doors open so people don't have to touch handles. And when it comes to social distancing, think beyond simply using tape which can be easily broken and can look scruffy. Alternatively, consider changing the layout and integrating new features which promote distancing which can include displays, planters or even portable living wall dividers.
Of course, don't forget you're likely to need to re-do fire risk assessments if you do change your layout to stay compliant with regulations.
Inspire confidence
All of this contributes to making your building more hygienic, safe and looking far more welcoming than the temporary measures being utilised by so many. And let's face it, we're in this for the long haul so these elements are going to be part of business as usual for the foreseeable future. What's more, communicate your cleaning efforts and hygiene protocols to building users so you can promote indisputable confidence in your organisation.
It is one thing for people to be unable to visit premises due to restrictions and entirely another to fail to attract people back based on a lack of confidence in hygiene and social distancing. We all need to be getting this right and, where we are, reassuring visitors that we're doing so. This will be the only way we can get through this winter; navigating through the challenges of Covid-19 while welcoming people back into buildings safely and confidently.
For more information and the full phs Index white paper report, visit the phs Index pages of the phs website: https://www.phs.co.uk/phsindex