A better life for cleaners
13th of April 2021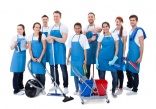 Cleaning our buildings, facilities, streets and pavements is a crucial job – but often an unrewarding one. ECJ finds out what is being done by international bodies and individual companies to improve the cleaner's lot.
At its worst, cleaning can be hazardous, tedious and soul-destroying. It can also be exhausting and back-breaking and can lead to aches, pains and musculoskeletal disorders. And it is often financially unrewarding with pay-packets hovering just above subsistence levels for many.
But despite these negatives, cleaners have historically gone about their work willingly and with little complaint. However, the past couple of years has seen a growing level of unrest.
In November 2019, outsourced cleaners at the Foreign and Commonwealth Office in London went on strike for four days over demands for union recognition and improved rates of pay.
In the same month, a group of 50 doctors from London's Imperial College wrote an open letter to the chief executive of their NHS trust in support of cleaners, caterers and porters at St Mary's Hospital in Paddington who were striking in protest at their terms and conditions.
Unrest during the same period also led to strike action at University College, also in London. And in October 2019, cleaning staff at several German airports downed tools in a dispute over pay and conditions. The protests took place at Frankfurt, Berlin and Münster Osnabrück airports.
So there is clearly widespread discontent in the cleaning industry. However, many industry players are aware of this and are seeking to redress the balance.
For example, services provider Facilicom has created various schemes and incentives to ensure all workers feel valued and supported. These include training in "Hostmanship" - the art of making people feel welcome.
"Hostmanship builds the confidence of our colleagues to communicate and engage with their peers, clients and customers more effectively," said Facilicom UK's managing director Jan-Hein Hemke. "It also enables us as a business to add value to our clients.
"By developing interpersonal skills we can introduce a caring, yet professional, approach to our work. Colleagues are then more motivated and committed to their tasks while also having a better understanding of a client's needs. And this makes them more likely to engage rather than just doing the minimum amount of work."
The company also runs an internal Facilicom Awards programme which recognises and thanks those members of staff who go the extra mile. "These are awarded quarterly to anyone within the Facilicom business, no matter their position," said Hemke. "We also give out an 'employee of the year' award at our annual meeting at the start of each year. Our awards programme provides the opportunity for clients and management to acknowledge our fantastic staff."
Making cleaners feel valued is the key to changing attitudes within the industry, he says. "It is our firm belief that cleaning operatives are the most essential part of a company's daily operation and
without them the business could grind to a halt," said Hemke. "We are therefore committed to safeguarding our colleagues' wellbeing and ensuring they feel valued and appreciated.
"In return we have seen low levels of absenteeism, increased staff retention and high levels of job satisfaction which has led to better teamwork and service provision and higher levels of
client satisfaction."
Facilicom's company motto is "Happy People Make Happy People". "We've placed wellbeing at the heart of our operations and we firmly believe that if we take care of our people, they will take care of our business," said Hemke.
The company is also a strong supporter of the Living Wage movement. "We believe people who are willing to work hard for their wages should be rewarded sufficiently, which is why we were a founding member of the Living Wage Service Provider Recognition Scheme and were one of the first national contract cleaning companies to sign up to the scheme," said Hemke.
Facilicom also holds staff events throughout the year including Christmas get-togethers and charity-related tea and cake days. "We also have a barbeque in July to kick off what is always a very busy summer period," said Hemke. "But since many of our colleagues work on sites throughout the country we encourage our managers to organise their own events to celebrate the work our people do on site. Cake and doughnut days are among the favourites."
Another company intent on improving the lives of cleaners is Essity. As a hygiene manufacturer, Essity employs no cleaners but has come up with technological solutions designed to help make their working lives easier and more rewarding.
"Cleaners have to cope with monotonous work and strict routines in a high-pressure environment where a minimal amount of time is allocated to carry out many tasks," said Essity's commercial marketing director Anna Konigson Koopmans. "We know from our own research that 40 per cent of workers seldom interact with the cleaners in the building. And since cleaners often work alone and after hours, they gain little feedback. But like most people, cleaners would like more appreciation and recognition for the work they do."
The company has devised Tork Digital Cleaning Plans to provide a digital interface between the cleaning manager and the operative and improve lines of communication. Also from Essity is Tork EasyCube, a software solution that allows staff to check remotely via a smartphone or tablet when a dispenser needs refilling or when an area of a building is receiving a high number of visitors. "Tork EasyCube reduces the checking and refilling workload so that cleaners have more time to make a difference in other tasks," said Konigson Koopmans.
Meanwhile, other organisations are seeking to provide incentives for cleaners and provide more recognition for their efforts. Every year the Loo of the Year Awards highlights the Cleaner of the Year where the work of individual cleaners is celebrated.
Valued and appreciated
And ECJ's own European Cleaning & Hygiene Awards feature a category for rising stars, commitment to diversity and investment in training in a bid to boost those companies striving to improve practices for cleaners.
OCS head of cleaning Yvonne Taylor says it is vitally is important for cleaners to feel valued and appreciated when going about their work. "We work in an industry where people tend to overlook cleaning operatives," she said. "This may be because they work different hours to building users, or simply that they have an expectation of a clean building without thought of how it's kept that way. Indeed, many people only notice a cleaning service when something goes wrong.
"For all of these reasons it's essential for us to recognise our cleaning operatives for the valuable work they do."
The cleaning operative is often the first person the customer will see, says Taylor. "It is vital that all of our front-line colleagues experience the appreciation and respect they deserve," she says.
OCS implemented a "people strategy" over two years ago which has increased the company's employee retention rate from around 65 per cent to nearly 90 per cent, she says. "Around 55 per cent of our colleagues are cleaning operatives and we're naturally thrilled to be providing an engaging working environment," said Taylor.
The company also runs a training programme designed to help staff members progress from cleaning operative to supervisor and beyond, covering the fundamentals of cleaning plus health and safety, OCS runs a staff recognition scheme called OCS STAR Awards. "Anyone can nominate a colleague for an award and all nominations are reviewed by a panel," Taylor explained. "Winners receive either a certificate or a "love to shop" voucher and are then entered into our annual awards for shortlisting. And the winner of that receives a £1,000 cheque."
The company issues more than 100 STAR awards each month to colleagues who have achieved something exceptional, she says. "We've had many examples of cleaning operatives saving lives."
According to Taylor, the company's 90 per cent retention rate proves that providing a better working life for cleaners is a strategy that undoubtedly pays off.
"A great example of this is Thank Your Cleaner Day, an international day where businesses are encouraged to recognise the wonderful work their cleaning operatives perform," she said. "This year our customers nominated 2,200 of our company's cleaning operatives for recognition for going above and beyond in their role.
"It's an upward spiral; as we show our appreciation, employees are motivated to go the extra mile which leads to more appreciation."
Facilicom's Hemke feels it is a growing trend in the industry for employers to improve the treatment of staff. "It seems that many companies are placing an increased importance on employee wellbeing and it's an issue that, in my opinion, quite simply cannot be ignored," he said.
Related Articles