Another line of defence
15th of April 2010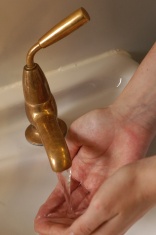 At the beginning of this year a hospital in Ireland became the first in the world to specify the use of hygienic copper door handles throughout its buildings in a bid to reduce healthcare associated infections. ECJ invited the European Copper Institute to write exclusively about the properties copper possesses which make it so effective in such applications.
The increasing threat from microorganisms, be it swine flu or hospital superbugs, is highlighting the role touch surfaces have in the transmission of infection and the role antimicrobial materials have to play in helping to curb the spread of disease. Copper has been proven to be a broad spectrum antimicrobial, effective against the headline-making organisms threatening public health today, and now hospitals and other critical environments are starting to specify copper touch surfaces as an additional hygiene measure.
In the European Union, the number of deaths attributed to nosocomial (healthcare associated) infections is estimated to be around 37,000 per year, which is comparable to the number of deaths from road traffic accidents. Furthermore, these infections are also estimated to contribute to a further 110,000 deaths annually. Aside from the loss of life, the financial burden of these infections on the EU's healthcare systems was estimated to be seven billion euros per year.
Healthcare associated infections show an alarming growth since the 1980s and current measures have not yet shown a significant reversal of that trend. It is not surprising that nosocomial infections are high on every government's agenda and a major area of public concern.
Surface infection source
At the beginning of 2009, like the rest of the world, Europe was faced with a serious threat of a flu epidemic. This, in turn, leads to strong public reactions – especially with respect to densely-packed public spaces and particularly focussing on airborne infection. However an expert in bacterial contamination from Southampton University, UK, clearly stated that the major source of contagion is not public spaces, but public surfaces.
At the Annual Summit of Antivirals in Beijing last July, Professor Bill Keevil explained: "People believe that influenza is spread in the air – simply because people cough and sneeze. This is why many people are choosing to wear face masks. However microbes in the air settle onto surfaces and people touch those surfaces. Scientists have shown that one contaminated hand can contaminate at least 7 other surfaces before the hand is washed."
The Professor pointed out this mechanism of contagion has been recognised, but that there was much more that could be done. "It has been recommended, particularly during a flu epidemic or pandemic, that people wash their hands more frequently, but people do not always wash their hands very well or often enough. The problem then is the contaminated hands can touch food, people, door handles, banisters, telephone keypads and many other surfaces.
"As a result, the touch surface is set to become the new battleground in the fight against bacteria. It is a new way of thinking, a different mindset to see the touch surface material become one of the most important decisions in stopping infection. Touch surfaces should work day and night, between touches and between cleans."
Laboratory work has demonstrated that pathogens can survive on conventional surfaces for weeks or even months so an effective antimicrobial surface could help to reduce levels of contamination and thus the risk of transmission.
Overwhelming scientific evidence shows that copper is the most effective antimicrobial touch surface material, active against viruses, such as Influenza A (H1N1), fungi, such as Aspergillus niger and bacteria, such as MRSA and E. coli. Laboratory tests demonstrate a 99.9 per cent kill of bacteria within two hours.
In a historic announcement in 2008, copper became the first material to be recognised by the US Environmental Protection Agency for its antimicrobial properties. Whilst other solutions, such as silver-ion-containing products, have been proposed, a direct comparison between these and copper under typical indoor conditions shows that there is no competition. Only copper eliminated the contamination.
Copper also has the advantage of not simply being a coating but being a solid material from which hygienic equipment and fittings can be made. It therefore cannot be scratched off and will not wear out. It can also be cleaned using standard protocols and products.
Copper alloys, such as brass and bronze, also have proven antimicrobial properties, so there is a palette of colour options available, ranging from silver, gold and bronze to the familiar copper tones. There is consequently a choice between products that resemble stainless steel, or ones that have a distinctive copper alloy appearance for a more visible infection prevention measure.
Copper in clinical environments
Several prominent hospitals around the world have been involved in studying the effect of installing copper in busy, clinical environments and the preliminary results are very positive. In the UK, a clinical trial at Selly Oak Hospital, Birmingham, demonstrated that copper surfaces such as taps, toilet seats and door push plates can substantially, or even totally, eliminate microbial contamination.
Trial leader Professor Tom Elliott observed: "Copper is what I would call an intelligent metal. It is quietly working away in the background, killing organisms all the time. It needs to be part of what we call a bundle of care in terms of an approach to preventing infection."
Trials are also under way in South Africa, the US, Japan, Chile and Germany, where, in the Asklepios Clinic Wandsbek in Hamburg, aluminium door handles and plastic light switches have been replaced by copper alloy equivalents in one ward and its adjacent bathrooms.
Among the first to adopt antimicrobial copper technology, St Francis Private Hospital in Mullingar, Ireland, and its associated care home St Clair's, elected to fit antimicrobial copper door handles and push plates throughout the facilities on the weight of compelling laboratory research and the results from Selly Oak.
The general manager and director of nursing Noeleen Sheridan explained the landmark decision by saying: "All healthcare facilities are acutely aware of the risks from the spread of germs and the high costs of negating them. As it is estimated that 80 per cent of infections are spread by touch, keeping surfaces like door handles as germ free as possible will impact on the spread of infection. Our decision to specify antimicrobial copper products is based on this conviction, and the compelling evidence from the Selly Oak clinical trial."
March 2010 saw the international launch of the Antimicrobial Copper brand, which is intended to be used in a wide range of public places to indicate the use of surfaces that are constantly and actively killing bacteria on contact. Through this identification of copper alloys and products, the brand will help specifiers to choose these products with confidence and will reassure the public that they are protected.
While hand washing and cleaning are the pillars of infection control, antimicrobial copper surfaces can provide an additional line of defence, active 24/7, to reduce contamination between cleans and therefore lower the risk of spreading infection.