Home › magazine › latest news › Spanish cleaning association condemns lack of cleaning frequency on public transport
Spanish cleaning association condemns lack of cleaning frequency on public transport
16th of July 2020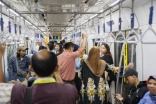 In Spain, the contract cleaning association Aspel has criticised the lack of a cleaning and disinfection protocol in airports and train and bus stations - warning this could increase the risk of spread of Coronavirus.
Its president Juan Díez de los Ríos said "The cleaning carried out on trains, buses and planes is insufficient given the context in which we find ourselves after the pandemic caused by Covid-19." He appealed to the relevant authorities to act immediately to reduce the risk of contagion that travellers are facing unnecessarily on a daily basis.
He emphasised the role of cleaning in helping to stop the spread of Coronavirus has been well recognised, and the work of the sector is essential in guaranteeing public health. "For this reason, each and every one of the stages of a train or plane journey must entail maximum cleaning and disinfection. It is clearly insufficient that the disinfection of a train or an airplane is carried out only once a day, without cleaning when changing passengers."