Home › magazine › latest news › Japanese fans clean up stadium after World Cup victory
Japanese fans clean up stadium after World Cup victory
26th of June 2018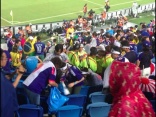 Japanese fans celebrating a historic World Cup victory over Colombia did not leave the stadium before cleaning up rubbish discarded on the floor of the stadium.
The diligent fans were filmed picking up plastic cups, bottles, cardboard and food waste left scattered around and putting them into blue bin bags.
A number of clips capturing the post-match clean-up, after the majority of fans had left the stadium, were posted and shared on social media.
And the Japanese fans' actions inspired other nations to follow suit - Senegal fans were also applauded for cleaning up after their team's 2-1 victory over Poland.