Home › magazine › latest news › ISS and ToolSense enter global strategic partnership
ISS and ToolSense enter global strategic partnership
21st of September 2023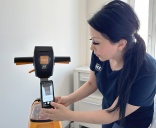 International facilities services provider ISS has formed a global strategic partnership with Austrian tech start-up ToolSense to manage the company's global assets of movable machines through Internet of Things (IOT) solutions.
Every day more than 300,000 ISS on-site employees are taking care of over 500,000 movable machines - such as vacuum cleaners, kitchenware and healthcare equipment - in more than 30 countries worldwide.
The tracking, maintenance and utilisation of these assets will now be optimised by the use of ToolSense's Asset Operations platform, Internet of Things (IoT) solutions, and QR codes.
Markus Sontheimer, CIDO of ISS explained: "As a cornerstone of our ambition to become the technology leader in our industry, we are firmly dedicated to building an 'ecosystem' of strategic partnerships and collaborations with innovative startups and suppliers who are pioneers in their respective fields.
"By digitising ISS's global asset management through ToolSense's solutions, we will enhance the entire 'life cycle' management of our movable assets and boost our operational efficiency. For instance, we will gain a comprehensive overview of all our on-site tools and machines, including their utilisation, maintenance needs, and potential upgrades. These data-driven insights will ensure we always have the right equipment on hand at our customers' sites, enabling a consistent workflow."A crucial aspect of integrating ToolSense's solutions is to digitise work processes that would typically be manually carried out by ISS's on-site employees.
Alexander Manafi, CEO of ToolSense added: "Rather than maintaining an overview of local machines through laborious processes involving pen and paper or Excel sheets, employees will now have access to all relevant information and will manage assets through one single digital platform.
"This platform provides a machine-to-service connection for real-time communication, access to machine locations, and automatic run-time documentation. Furthermore, machine failures and upcoming maintenance are instantly recorded and tracked. On-site, employees can conveniently report issues by using QR-codes."