Unger nLite HydroPower RO XXL for pure water window cleaning
13th of October 2014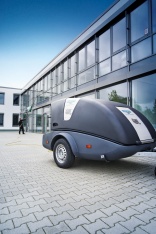 The new nLite HydroPower RO XXL from Unger is a complete solution for professional window cleaners, delivering 100 per cent pure water in any location.
The trailer system houses a three-stage purification process, consisting of a carbon pre-filter, reverse osmosis (RO) membrane and the latest Unger innovation, the nLite HydroPower DI Filter. This completes the purification process, exceeding standard DI filter efficiency through patented design features, including the company's Quick Change Resin Bags.
With two 100 metre hose reels and two 12 volt pumps (150 psi), the nLite HydroPower RO XXL can be operated by one or two people, giving pure water output of up to 250 litres per hour per person. The chassis is lightweight for easy towing and tank capacity is 750 litres.
A digital controller monitors water flow, pressure and battery power and there is an automatic shut-off feature. The high capacity 12-volt gel battery offers all day operation. And flow rates can be adjusted at any time to suit different applications, which saves on water consumption.
Related Articles