Proandre Multipush dispenser offers gel option
28th of October 2013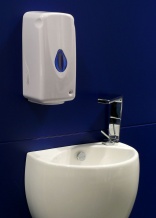 Proandre's Multipush gel dispenser can be sold separately, offering a single product, or in conjunction with other refills. Products in the line are hand soap, shampoo, hair conditioner, shower gel, toilet seat cleaner and hand sanitised.
Other units in the company's range include the Sensor XL touch-free soap dispenser which holds a large refill of up to 3,750 doses. It automatically dispenses the right amount of product when it detects the user's hands and is equipped with an integrated anti-theft lock. Designed for high traffic areas.
The Proandre foam dispenser doses soft foam through a valve and incorporates a translucent window for monitoring of product consumption. It comes in white and chrome, and has a lock.
Related Articles