Home › magazine › june july 2014 › latest news › Dry steam vapour suitable for food area cleaning says OspreyDeepclean
Dry steam vapour suitable for food area cleaning says OspreyDeepclean
8th of July 2014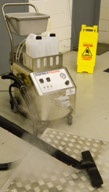 OspreyDeepclean says its dry steam vapour technology uses very little water and no harsh chemicals in the removal of dirt, grease and grime in food preparation areas. Vapour is delivered at up to nine bar pressure and surfaces are left sanitised, dry and ready for use.
The Robby 3000 and 6000 are designed for the fast food industry and small/medium food production areas - they come with accessories and are portable.
For larger food preparation/serving areas the Provap Evo Vac has independently validated decontamination results and utilises an integrated water filtration vacuum unit. The SteamForce 3 Vac has the added benefit of a detergent tank for tougher degreasing tasks.
Related Articles