Lavorwash launches steam cleaners at ISSA/INTERCLEAN
29th of June 2012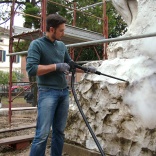 Lavorwash launched three new Lavorpro steam cleaning machines. The steam market is growing rapidly according to export manager Luca Gola. New were the Katla, the Vesuvio and the Graffiti Waster.
This is powered by a diesel boiler but runs on a battery, can be used for sandblasting walls, railings and roofing. The company claims it has several advantages over traditional sandblasting systems using air or water. It is noiseless and leaves no residue - and there is also no water waste.
The Vesuvio, aimed at the food industry, has a removable vacuum unit which enables it to immediately collect the dirt. It also has non-marking wheels for use in food processing areas. The Katla is particularly suitable for use in hospitals for applications such as sanitising wheelchairs and cleaning surgical equipment.
Tel: +39 0376 55431. Email: info@lavorpro.com
Related Articles