A different point of view
30th of June 2011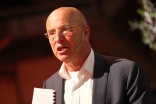 ECJ editor Michelle Marshall speaks exclusively to Hans Simons, who was recently appointed president of the European Federation of Cleaning Industries (EFCI). EFCI is the pan-European organisation representing the contract cleaning sector, and is made up of national associations from EU member states.
"If I can take one small step at a time I will be satisfied, and my initial feeling is that the members are ready to take those steps forward." Dutchman Hans Simons, who is now nine months into his role as president of the European Federation of Cleaning Industries (EFCI), has modest ambitions for his term in the job. And realistic ones, considering the cleaning sector is not an industry renowned for its fast pace of change. Simons views the industry from an independent and slightly detached point of view, having known nothing of it until relatively recently. This, he hopes, enables him to offer a fresh new perspective in guiding EFCI forward.
Simons spent his working life in public services and politics - he has been vice mayor of Rotterdam on two separate occasions and was also a member of the Dutch Cabinet, acting as secretary of state for health from 1989 until 1994. So he has a great deal of experience in the public sector: for example he was responsible for the merger of the Netherlands' two main hospitals.
Having now officially retired from that life, he performs a variety of different roles and became involved with the contract cleaning industry through the Dutch national association OSB, of which he is chairman. Apart from that - and now his presidency of EFCI - he is involved in the ambulance service, lectures at a university in Tilburg and acts as a board member for a number of organisations. This gives him a varied life, which he clearly finds highly rewarding.
Share experience
"I have the perfect opportunity to share what I have learned with other people, and I also continue to learn a great deal," he says. "It's so important to always remain open to new developments."
The invitation to become OSB chairman came two years ago as a total surprise to Simons, he explains. "I was absolutely not familiar with the cleaning industry but I had a longstanding interest in issues such as social affairs and labour market developments. So I felt I could bring a new agenda, and a new outlook to the association."
On entering the cleaning industry in the Netherlands, then, what were his first impressions of it? "I observed the employers in the sector - those running the cleaning businesses - as being very pragmatic people, with no abstract philosophies: they were very close to the ground. For them day-to-day business is the key focus, there is not very much long-term planning.
"I quickly learned cleaning is a huge sector in this country and very much under-rewarded as an industry. What is also most interesting is the huge variation in company size. This is an industry with small, medium and very large sized businesses – the whole spectrum. And I could very quickly see the increasing trend for companies to not only offer cleaning, but other related services."
Having taken on the role as chairman of OSB, Simons set about meeting as many of its members as possible. Common issues right across the market quickly became apparent to him: "I identified the main challenges as being market development, integration of migrants, improvement of education and price pressure," he explains. "We had a long period of industrial action by cleaners here in the Netherlands last year and that really opened my eyes to those price pressures."
The unprecedented strike action by Dutch cleaners a year ago is well documented and although it was obviously a difficult period for both employers and cleaning staff, Simons feels a great deal of good has come from it. "I believe the strike action was handled very well by everyone involved," he says. "Essentially this strike was about respect – better working conditions, training, etc – as well as those obvious issues of wages, pensions and holidays. It was also very much about the quality versus price equation, and striving for improvement there."
The strike ended with an acceptable outcome for the cleaners, and it also prompted OSB to make some significant changes within its own organisation. For example it has changed its board and council to facilitate better representation of SMEs and has also agreed to have a more 'normal' communication with the trades unions.
At a higher level the association has established a new commission through which government, clients, trade unions and employers are formulating a code for fair trade from all parties. "This is currently in its final planning stages and is due to be published shortly," Simons says. He also speaks about the implementation of a new code for good employership, a quality standard which all OSB members will eventually have to adhere to. "This will cover areas such as social and environmental policy, and all aspects which can make a contract cleaning company a better employer."
Having clearly already made his mark on a national level in the Netherlands, Simons was then elected president of the EFCI. He has already attended a number of board meetings and set some goals. "My main effort is in trying to bring new inspiration to the agenda. Traditionally EFCI's activity has been about lobbying in Brussels and focusing on issues in the European Commission agenda. But in my opinion we are not learning enough from each other, exchanging experiences and offering each other an overview of the national issues we face. I would like EFCI to be not just a lobbying organisation, but a platform from which all members can learn something from each other."
Better communication
Communication is another area where Simons would like to see improvement. "The European agenda is often secondary in the day-to-day business of a national cleaning company in any country, of course. But I would like to see a more proactive EFCI in terms of its communication with the industry – and in turn more respect for the EFCI across the sector."
He has ambitions for the markets of central and eastern Europe too. "In those countries we must establish a good, professional cleaning industry and EFCI can surely play a truly useful role in helping initiatives to start at ground roots level. I see great potential to involve more members and more people in the industry."
In his quest to further his knowledge about the contract cleaning sector Europe-wide, Simons has also been meeting with EFCI's national association members in their own countries. "From those discussions I have learned that our problems and challenges are the same, and often our solutions are different. Therefore we have so much to learn from each other."
The common themes Simons has identified in the EU member states are price pressure; labour market; education; and the trend towards integrated services. And he feels that building up EFCI as a platform for knowledge exchange and good practice can only help to further progress in all of these areas.
Although he has spent only a relatively short period of time in the industry, it's clear Simons already has a comprehensive understanding of the sector and he will undoubtedly be a most valuable ambassador for it. He firmly believes the cleaning industry deserves a great deal more respect than it often gets. "The cleaning industry gives work to low-skilled people, working mothers can fit it in around their other commitments, and it has offered many migrants the chance of a working life in a new country. Those are all such positive characteristics," he emphasises.
"We must also acknowledge that not everyone is suited to university qualification or 'highly skilled' jobs. Why as a society do we put much higher value on those people who are? What is termed to be 'low-skilled' work deserves to be rewarded just as much."
Simons has a clear agenda, then, of what he would like to achieve during his term as EFCI president. "Of course I have set a number of objectives but it's crucial we move forward together, as an organisation. My initial feeling is that the members are ready to take those steps forward."
He concludes: ""EFCI in Brussels should be regarded as THE organisation for the cleaning industry. To achieve that, we must modernise our activities."