Kimberly-Clark seeks to reduce skin irritation in hand hygiene
26th of March 2015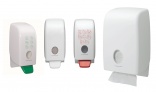 Kimberly-Clark Professional's 'Infection Prevention – it's in your hands' initiative is designed to help nurses and hospital staff eliminate skin irritation as a barrier to good hand hygiene. The programme consists of a product range and education materials.
At the heart of the programme is the Aquarius dispensing range and the Kleenex line includes foam hand soap, folded or rolled hand towels, a moisturising alcohol hand sanitiser and a
hand and body lotion that conditions the skin.
Education and training materials are also available.
Related Articles