High pressure cleaners - can they be sustainable?
28th of November 2011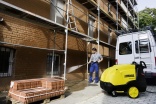 High pressure cleaning systems use plenty of water and energy - but they also reduce the need for chemicals and speed up the cleaning process. So how sustainable are they? Ann Laffeaty finds out.
Reducing water and energy consumption are widely regarded as important moves in increasing the sustainability of any operation. Water, in particular, is now an increasingly sought-after commodity. As water shortages continue to bite in various countries around the world, companies are looking at ways to reuse and recycle water wherever possible.
Yet high pressure cleaners use large quantities of water as well as consuming plenty of energy, particularly in the case of hot water cleaners. So does this make them inherently unsustainable?
On the contrary, says Nilfisk-Advance's senior group product manager for professional high pressure cleaners Andrew Caddick. "At first glance pressure washers do seem to entail a large consumption of water and electricity as well as diesel oil in the case of hot water pressure cleaners," he said. "However, the real calculation needs to take into account the consumption of water compared with the time taken to clean.
"Using a pressure washer will be quicker than carrying out a manual clean with a hose pipe. It has also long been proven that using a private pressure washer to wash your car consumes between six and 10 times less water than the use of a simple hose pipe at low pressure. The additional pressure and water flow provides a level of cleaning performance that cuts cleaning time."
Water savings
Nilfisk-Advance recently carried out tests using two 160 bar high pressure cleaning machines, one operating at 1,200 litres per hour and the other at 700 litres per hour.
"Simple reasoning would have it that the 1,200 litres per hour machine would be less sustainable and more heavy on resource consumption," he said. "However, for an identical cleaning task the 700 litres per hour machine required one hour 12 minutes to clean compared with only 26 minutes for the 1,200 litres per hour machine. Meanwhile in pure water consumption terms, more than 500 litres of water were saved by using the larger machine. And of course, the reduced cleaning time led to a reduction in electricity and labour costs."
He says the picture is similarly unclear as far as hot water versus cold water pressure arguments are concerned. "It may be tempting to argue that a hot water pressure washer is less sustainable than a cold water machine since this will potentially consume more fuel and lead to higher emissions of exhaust gases," he said. "However, in a typical application where oils and greases need to be cleaned away, the use of hot water will reduce cleaning time by up to 40 per cent compared with a cold water pressure washer."
According to Caddick, where detergents are required for high pressure washer tasks, these will have been designed by the machine's suppliers to be as sustainable as possible. "For example, when Nilfisk-ALTO detergents were developed a level of 80 per cent biodegradability within 14 days was a key specification," he said.
He goes on to claim that Nilfisk-ALTO was the first supplier to come up with an environmentally efficient boiler. "Today we can still boast efficiency levels of up to 93 per cent which equates to less waste and less pollution in terms of exhaust gases," he said.
Dibo managing director Pierre van den Borne supports Caddick's view that high pressure cleaning actually reduces the amount of water used compared with manual cleaning methods. "By adding pressure to the water it gains more power and becomes more effective," he said. "When using a hot water pressure washer the temperature provides more supplementary power which also results in lower water consumption because the cleaning effect is improved and the time to finish the job is shortened."
He adds high pressure cleaners mostly reduce the need for chemicals as well. "However, this depends on the surface that needs to be cleaned and the type of soiling that needs to be removed," he says. "Sometimes the use of chemicals offers advantages as they speed up cleaning and reduce the amount of water required."
According to van den Borne, sustainable cleaning can be defined as a task that is carried out swiftly and well, and with the lowest possible consumption of chemicals and energy. "However, you need to make the right choice for the specific cleaning job in every case," he said. "As a manufacturer it is our job to keep the energy use of our machines as low as possible."
As an example he quotes the GreenBoiler which is claimed to offer efficiency levels of 92 per cent and reduce fuel use by 18 per cent compared with an average boiler.
He claims the company is continuously looking for ways to make its machines more sustainable. "Our customers are becoming increasingly aware of the importance of working with environmentally-friendly machines," he said. "Our JMB-H WWC has become very popular and the GreenBoiler has been in high demand in the five years since it has been released."
Kärcher's environmental matters public relations manager David Wickel says high pressure cleaners are often assessed wrongly from a sustainability point of view on account of the amount of water they use.
"Pressure cleaning is actually an eco-friendly cleaning method," he said. "It is an environmentally friendly alternative to using chemicals and leads in many cases to better cleaning results in a much shorter time. It is also very efficient because high performance can be achieved even on irregular surfaces."
Efficiency factor
Like other manufacturers, he stresses that high pressure cleaning requires less water than when using a hose. "The narrow diameter of the nozzle reduces water consumption by around 85 per cent in comparison with an ordinary hose," he said. "Pressure cleaners also save chemicals because under higher pressure, detergent consumption can often be reduced. Furthermore, pressure cleaners as a rule have dosing devices that enable detergent to be added precisely and in minimal quantities."
He says the sustainability of high pressure washing systems depends greatly on the individual machine. "The energy consumption of high pressure cleaning machines depends on the power rating of the device: entry-level machines use about 2kW while an especially powerful model may use up to 10 kW," he said.
"Efficiency is a relevant factor here and an optimal combination of water pressure, throughput and accessories can make an enormous difference, especially when comparing pressure washers made by different manufacturers. In practice, cleaning with one machine can be done twice as
fast as with another in the same category. Using less time can reduce both water and power consumption."
Kärcher's new compact-class hot-water pressure washers have an eco!efficiency setting and water temperature can be varied between 20°C and 155°C as required. "Since many types of soiling can be removed at temperatures of around 60°C, the eco!efficiency mode can be set permanently on the master switch to reduce fuel consumption by 20 per cent," said Wickel.
Aquila Triventek's managing director Torben Andreasen agrees that high pressure cleaning is a sustainable cleaning system. "It is fast, effective and extremely versatile," he said. "If you can eliminate harmful substances in the waste water by using a hot water high pressure washer, any excess water can be sent directly into the public sewers."
He concedes that using high quantities of water is bound to be seen as a negative from a sustainability point of view – particularly if the water to be disposed of has been polluted. However, he says the company's TD302REC machine addresses this since it is capable of recycling and reusing more than 95 per cent of its water consumption.
"This high pressure cleaner collects the dirty water that may contain harmful substances, such as chemicals from graffiti paint or from a workshop floor," said Andreasen. "It then cleans it and reuses the clean water over and over again, which means it keeps water consumption to a minimum."
No chemicals needed
He adds that hot water high pressure cleaning systems can also eliminate the need for chemicals. "The hot water dissolves the dirt and other substances to be cleaned away," he said. "This means that the only real environmental impact comes from emissions from the oil burner, where the environmental exposure on a long-term basis is easier to assess than the outlet of hazardous harmful chemicals. "
He says the company's own heavy-duty high pressure cleaners generally run on diesel engines with relatively low consumption. "However high pressure cleaning is one of the fastest ways to clean, so the environmental impact should be measured per square metre per hour," he said. "In this case, high pressure cleaning and sandblasting emerge as the most environmentally correct methods of cleaning."
Aquila Triventek is currently working on various sustainable high pressure cleaning projects. "For example, our SPUMA high pressure washer is specially developed for environmentally friendly weed killing through a mixture of water steam and biodegradable organic sugar foam," he said.
"We are also ready to produce high pressure washers in which the engine and oil burner both run on biodiesel, cutting down CO2 emissions and reducing harmful outlets of carbon monoxide.
"Our future goal is to manufacture all standard models running on biodiesel engines and oil burners, and we are committed to developing new tools, nozzles and methods to make high pressure cleaning even more sustainable."
Related Articles