Nilfisk VL500 wet and dry
27th of June 2013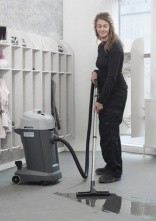 Available in 35, 55 and 75 litre versions is the new VL500 wet and dry vacuum cleaner from Nilfisk - which is suitable for use in many different applications.
The Nilfisk Ergo Tipping system enables easy emptying of a completely filled container, as it transfers the weight of the contents as the container is lifted. Emptying the container without having to remove the motor head, makes operation fast.
Individual wet and dry filters work simultaneously and each filter is specific for either a wet or dry application. And thanks to the dual action filtration the VL500 can be used in any environment without the need to change filters.