Award winner
29th of June 2011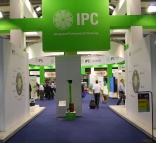 Winner of the Pulire Innovation Award at the Italian exhibition last month was the GreenTube from IPC, a system designed to bring pure water cleaning technology to new markets.
IPC set out to design a compact, light, practical and inexpensive unit that would not be limited to window cleaning applications. Current systems, the company says, are often complex and expensive, which restricts their use.
GreenTube is a simple unit with dimensions 33 x 28 x 145 cm and it weighs just under 13 kg. The number of components and connections has been minimised, and hoses have been eliminated. All functional components have been placed inside a single load-bearing cylinder which contains four purification stages: sediment filter; active carbon filter; reverse osmosis membrane; and deionising resin cartridge.
All types of surfaces can be cleaned, including those at height thanks to the range of accessories available (telescopic poles, for example).
Tel: +39 0421 205511. Email: info@ipcleaning.com