Hagleitner ihs system for floor cleaning
5th of November 2014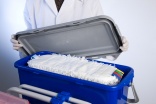 For cleaning and disinfecting of floors Hagleitner has developed the ihs system. The integral MIX cleaning dispenser doses a ready-to-use solution from concentrate - from a 2.5 litre container it mixes up to 500 litres.
Safety mops and cloths are positioned on the cradle machine, damp and ready to use. Prepared damp mops and cloths are colour coded, and an area of 500 square metres can be cleaned with 20 prepared mops - a cost of one euro Hagleitner claims.
After cleaning mops and cloths are disinfected thanks to the Havon laundry dosing system.
Click here to read the latest ECJ report on sustainable cleaning
Related Articles