Home › magazine › product features › CWS Paradise Air Bar fragrance dispenser has user interface
CWS Paradise Air Bar fragrance dispenser has user interface
22nd of May 2015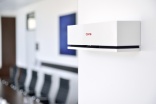 CWS says its Paradise Air Bar is the first fragrance dispenser to feature an integrated user interface offering a range of setting options.
Suitable for use in washrooms, receptions, conference rooms, spas and smoking areas, the system targets bad smells without being oppressive, says CWS. All fragrances are made from ingredients that are not harmful to people or the environment.
The user can switch between two different fragrances at any time and intensity can be set to four different levels. And the Air Bar can also be used to create a pleasant ambience in areas which may be difficult to ventilate - not just eliminating unpleasant odours.