Home › magazine › latest news › Hotels linens to use chip technology to reveal their cleaning history
Hotels linens to use chip technology to reveal their cleaning history
23rd of July 2019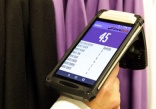 A laundry service in China is stitching microchips into the corners of sheets, towels, quilts and other linens containing data about the item's washing history.
The idea is to enable hotel visitors to scan their bedclothes with a smartphone to check when they were last laundered so they can reassure themselves that the soft furnishings in their room are truly clean.
The service has been introduced by the Wuhan Kunteng Laundry in central China according to the country's state-run media outlet Xinhua. The Wuhan Kunteng Laundry provides cleaning services to most of the hotels in the city of Wuhan.
The microchips act like electronic ID cards linking reservations to washing information. Said to be about the size of a small coin, the chips are said to be water-resistant and can withstand high temperatures which means that linens containing the embedded microchips require no special care.
The technology reportedly comes from Germany and Japan and will soon evolve to enable QR codes to be printed on each towel and sheet. Hotel guests will then be able to scan the code to discover the history of each towel and sheet including when it was last washed, how many times it has been used and at what temperature it was disinfected.
News of the "smart sheets" follows an announcement by InvoTech Systems in May that the company plans to introduce a new wireless UHF-RFID hand-held reader with integrated software for portable use. The device would be used to streamline all hotel laundry, linen and uniform processes to provide accurate inventory scanning.