Websites - do it yourself?
22nd of September 2014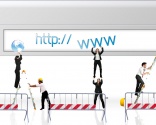 Website development used to be the domain of gods and geeks. They worked their magic using a strange coded language that was incomprehensible to the rest of us and made us pay through the nose for their expertise. Now their mystic is greatly diminished with the arrival of cheap DIY websites, but what are the pros and cons of doing it yourself? Hartley Milner reports.
Your company website is your shop window to the world. So how you display your goods or services is crucial if you are to entice in potential customers browsing the marketplace.
You may have noticed that traffic to your website has tailed off recently and it is beginning to look a little tired compared to the flashy, all singing, all dancing sites of your rivals. Perhaps your business has expanded and you have increased your product line or are offering extra services.
So do you go for a refresh, a revamp or grasp the nettle and opt for a complete replacement?
Whichever route you take, it will have an impact on your bottom line if you outsource the job to a professional website developer. This is not a concerning issue for large corporations with well-financed e-commerce budgets or IT departments, but it can be for SMEs operating to tight profit margins in highly competitive markets.
In recent years, cash-strapped small businesses have been thinking the unthinkable in terms of established convention – and looking at building their own websites. In a survey of 500 small businesses by UK-based online market research agency YouGov, 39 per cent said they had created their own websites and 58 per cent were willing to use a DIY website or blog to promote their business.
But is self-build really a viable option? Well, yes, but with reservations, according to Trisha Silvera of the European Website Builder Exchange Forum. "On the face of it, designing and constructing a website yourself is quite feasible, providing it is intended to serve a purpose that does not require either a high degree of sophistication or a huge amount of functionality. Great advances have been made in bringing website development into the mainstream, but it is not there yet and there is still much to be done.
Cheaper option
"DIY is certainly usually a much cheaper option than employing an experienced website creator, but you have to ask what could be the long-term cost if you get it wrong. Unless you are an expert at designing and building professional looking web pages, you could end up with a site that looks homemade and does not stand up to comparisons with those of your competitors. You may then find yourself having to get in professional help anyway, just to put it all right.
"The issue of money is, of course, an important consideration, but the fee you pay a professional does not just cover their services – it covers the amount of freedom it gives you to do other things. If you are running a small business, you will probably have more on your plate than you feel you can deal with as it is, and having to build your own website will take up even more of your precious time. So there can be another cost in terms of time and also stress.
"It's not only a case of having a site that looks good either; it must be functional and easy to use as well. Any difficulties and potential customers are likely to give up and go elsewhere. You need to ask yourself if you can honestly achieve this level of competence yourself. If the answer is no, you would be advised to seek the help of a professional."
You also need to be aware that while many of these sites require low start-up costs you will be charged monthly fees that can be pricey, depending on the degree of functionality and complexity of the site. You will also be using the same template as thousands – even millions – of other websites on the internet.
If you are concerned about building a brand name, DIY is not the way to go. The biggest drawback is lack of flexibility and limitations on the capabilities of the website. Remember, you are working with a set template, so if you do not like the way something works, looks, or you need to add a special feature, you will be unable to make adjustments.
Another drawback of template websites is that they are not all search-engine optimised and, therefore, are likely to not come up in search results. What good is a website if it cannot be found? Increasingly, though, the self-build sector is offering this essential facility as an extra service.
But Silvera acknowledged the advantages of self-build. "You alone know exactly how you want your website to look, and it can be difficult trying to communicate that to another person," she said. "It's also easier to try out different combinations of items and different page layouts if you are designing it yourself. You do need to see through the hype and be aware of what you are about to take on.
"If you really don't have the money to pay for a professional website provider, and you need to use what little knowledge you have to create your own site, you could then take a look at the possibility of using a website builder. If you think of a designer as building the whole house, and your own efforts as building it brick by brick, then a website builder provides pre-fabricated wall sections for you to slot together. It's a convenient halfway house, and it can give you the tools necessary to build a competent website."
Advances in web technology have greatly simplified website construction and given birth to a whole new industry, offering either low-cost website development services or the tools to self-build a professional-looking site cheaply or even for free. There is no programming, so you don't need to worry about knowing HTML. "If you can send an e-mail, then you can build a website," is the popular pitch.
There is a myriad of purveyors of DIY website programs promising they can get you up and running in minutes. Most offer templates that are pre-populated with images and content for your industry and all you need do is replace a few images and customise the copy.
Website builders provide all the facilities you will need, including design tools, content-managing systems and, increasingly, search-engine optimisation implements. Most provide users with an easy-to-use online interface, although some are still available as downloadable software packages. Typically, users begin their site construction by choosing from pre-designed website templates.
When comparing website builders, you need to have a goal in mind. If you wish to create a sleek, professional online store customised to your brand, then you should go for e-commerce-tailored website builders. Novices looking for a simple, attractive blog or basic site should seek out a website builder with an easy-to-use interface and well-designed templates.
Also, check out the variety of templates on offer to ensure you get the most stylish and professional looking site. Graphics options and even video placement can be helpful features on a website builder. Those who are expecting high volumes of traffic to their blog should certainly ensure that their website builder provides the best possible hosting package.
If you are tech-savvy, you will be able to make use of features such as URL redirect services, MIME types and FTP managers and file managers. These give you complete control of the internal structure of your website, web-pages and content. All DIY packages include easy-to-follow tutorials and full technical support around the clock.
"The advice I would give to any small company considering building its own template website is don't go rushing blindly into it, ensure you know all the pros and cons and, be aware – you could save money initially but be storing up costly trouble for the future," cautioned Silvera.
"From the consumer's point of view, probably the best thing to come out of the emergence of self-build is that the competition is forcing down the cost of web development and making it more affordable for everyone."