Ecolab MAXX2 for floor cleaning
25th of May 2015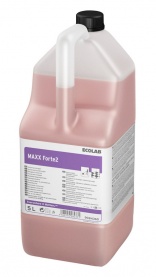 In order to maintain appearance and prolong floor life Ecolab has developed the MAXX2 system of products which are non-CLP classified.
MAXX Isi2, for example, is an all-round floor finisher which contains a new generation of polymers. Its smooth protective film minimises dirt adhesion and enhances floor appearance while also offering resistance to scuffs, marks and traffic dirt.
For stripping of old layers there is MAXX Forte2 - suitable for stripping linoleum and natural rubber floors as well as for cleaning natural and artificial stone floors.
Related Articles